At Stitch Fix we believe that finding clothes that match your style and fit you perfectly shouldn't feel hard or overwhelming. Instead it should feel like it's designed just for you. That's why we've spent over a decade pioneering personalized shopping and styling for more than four million clients across the US and the UK. 
We first started with the Fix, where we select and send a small number of pieces that match clients' unique personal style and fit. Last year we introduced Freestyle for when clients want to browse and find items from their own personal shops, which we've carefully curated with recommended items just for them. Unlike many traditional e-commerce retailers, the items featured in our clients' Freestyle shop refresh throughout the day as we learn more about their preferences and add new inventory. 
At the core of our business model is our unique blend of the human touch of expert stylists with the precision of advanced data science. This model is powered by data-rich feedback loops that help us provide millions of clients with a tailored experience. Our ability to personalization extends beyond the items we send and recommend to our clients – it's how we approach matching clients to stylists, designing the styles we think our clients will like in the future and in how we communicate with our clients. 
Like many retailers, one of the ways we engage, inspire, update and build relationships with our clients is through regular communication via email. Recently, we have been applying new, innovative applications of our algorithms in our email communications to clients. The ability for clients to shop directly with us through Freestyle has given us the opportunity to explore different ways in which we can make our emails to clients more personal, always relevant and easy to shop from. Here's how: 
• Making it personal – the content of these emails are unique to each client because we only showcase items in our inventory that are in their style and size, will fit them perfectly and match their budget.  
• Making it easy – we made our emails shoppable so that when clients click on a item they love in the email, it takes them directly to it – no need to search and scroll to find the item to buy. 
• Making it always relevant – we make our shoppable emails dynamic, which means the items we show clients at the time they open the email – not just at the time we send it – are items in stock, in their size, and the most personalized, freshest options for them. If a client opens the email again at a later time, the content will refresh to reflect the most current, relevant recommendations for the client. 
How We Make it Happen 
Making it personal 
We take the time to deeply understand our clients' unique individual needs, asking questions about their size, fit and price range, and by creating engaging ways for them to communicate their personal style with us. For example, Style Shuffle gives clients an easy way to share their style preferences through a quick thumbs up and thumbs down widget in our app or on our homepage. We have more than 10 billion+ ratings to date and around a million people play Style Shuffle every month – about a quarter of our current active client base which gives us a huge amount of insight on what people like (and don't). In addition, our stylists build deep, human-to-human connections with clients by listening to their needs and by sharing their expertise and advice with them, which all feeds into our feedback loop. 
One of our foundational algorithms – our Latent Style algorithm – takes all these inputs to provide us with a holistic understanding of a client's style and powers the personalization engine we utilize in Freestyle and beyond. By using our personalization algorithms in emails, we've made it easier and faster for clients to find things they love by pulling their freshest Freestyle recommendations straight to their inbox.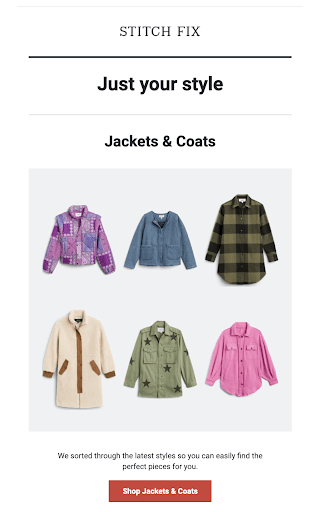 Making it always relevant  
Stitch Fix updates recommendations for our clients throughout the day to always provide them with fresh finds to explore each time they visit. We're always learning more about our clients' preferences, as well as adding new inventory to our collections. This poses a unique challenge for our team – our clients will open the emails we send minutes, hours, or days after the email is sent, but we may have new items to recommend by the time they open it. 
To make sure that clients are seeing items that are personal, relevant, and fresh at the time they open emails, we've connected them to the each clients' individual Freestyle shop, which could include items in "Complete Your Looks" where we recommend outfits curated around the Stitch Fix pieces you love that are already in your closet, "Trending for You" which recommends looks based on your unique personal style, and "Categories," a way to easily discover pieces by item type or occasion. Our emails populate directly from each of these offerings in real time to ensure each client is seeing up to date, new items they've love. 
In some instances clients will also see the item they've clicked on styled into a personalized outfit or other items in the same category – each  are carefully curated just for them making it easier for clients to be inspired by or to purchase a whole new look. 
At Stitch Fix, our ambition is to create a shopping and styling experience that's tailored to our clients and we're only just beginning to explore the potential of what that could mean. We first introduced personalized, dynamic shoppable emails to our US Women's clients in the fall, and we're pleased to share that due to overwhelmingly positive feedback, we'll begin testing the experience with our US Men's clients this summer.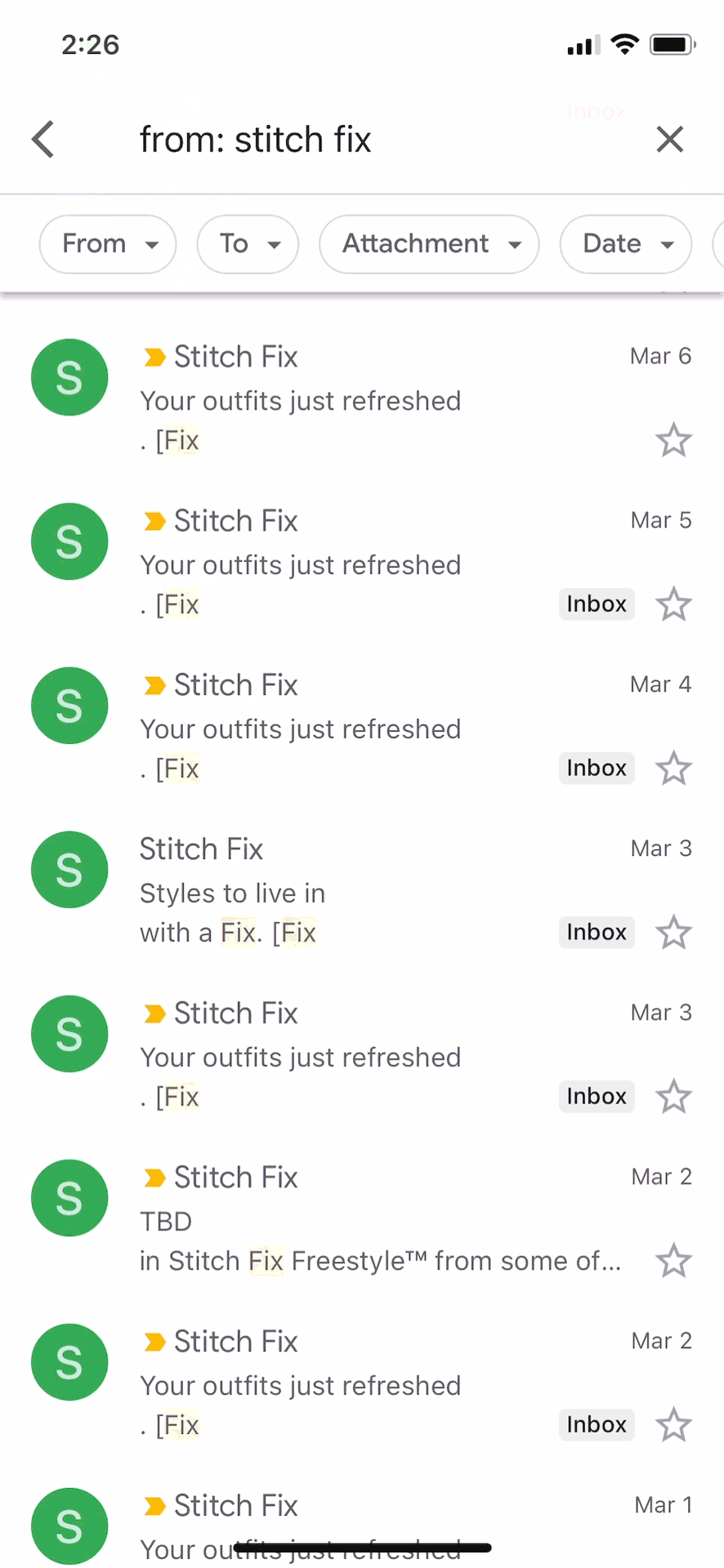 We're excited to share more of the ways we are building the global destination for personalized shopping, styling, and inspiration to support clients across all categories and occasions in the weeks to come. 
Find out more about how our unique combination of expert stylists and advanced data science is  powering the Stitch Fix personalized shopping experience at our Multithreaded blog.