To ensure that our ongoing diversity, equity and inclusion strategy is informed by and rooted in data, we set out to more deeply understand our company demography and define clear baselines to improve upon. Our goal in this work is to drive knowledge, precision, and transparency—not only for ourselves internally, but also to contribute to the dialogue and information sharing that is critical to chartering a path forward for the broader industry.
Racial/Ethnic Representation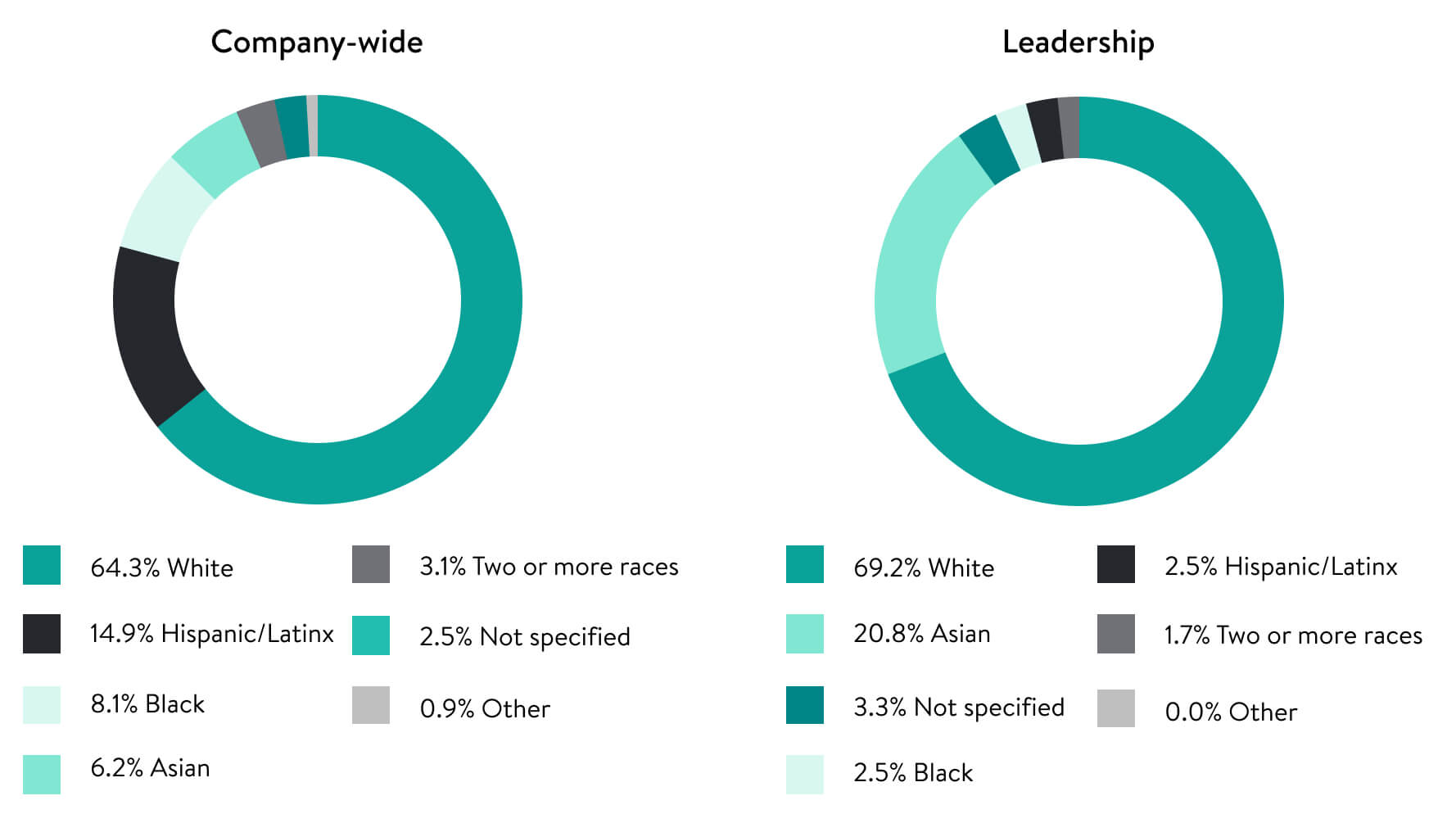 Racial/Ethnic Representation by Department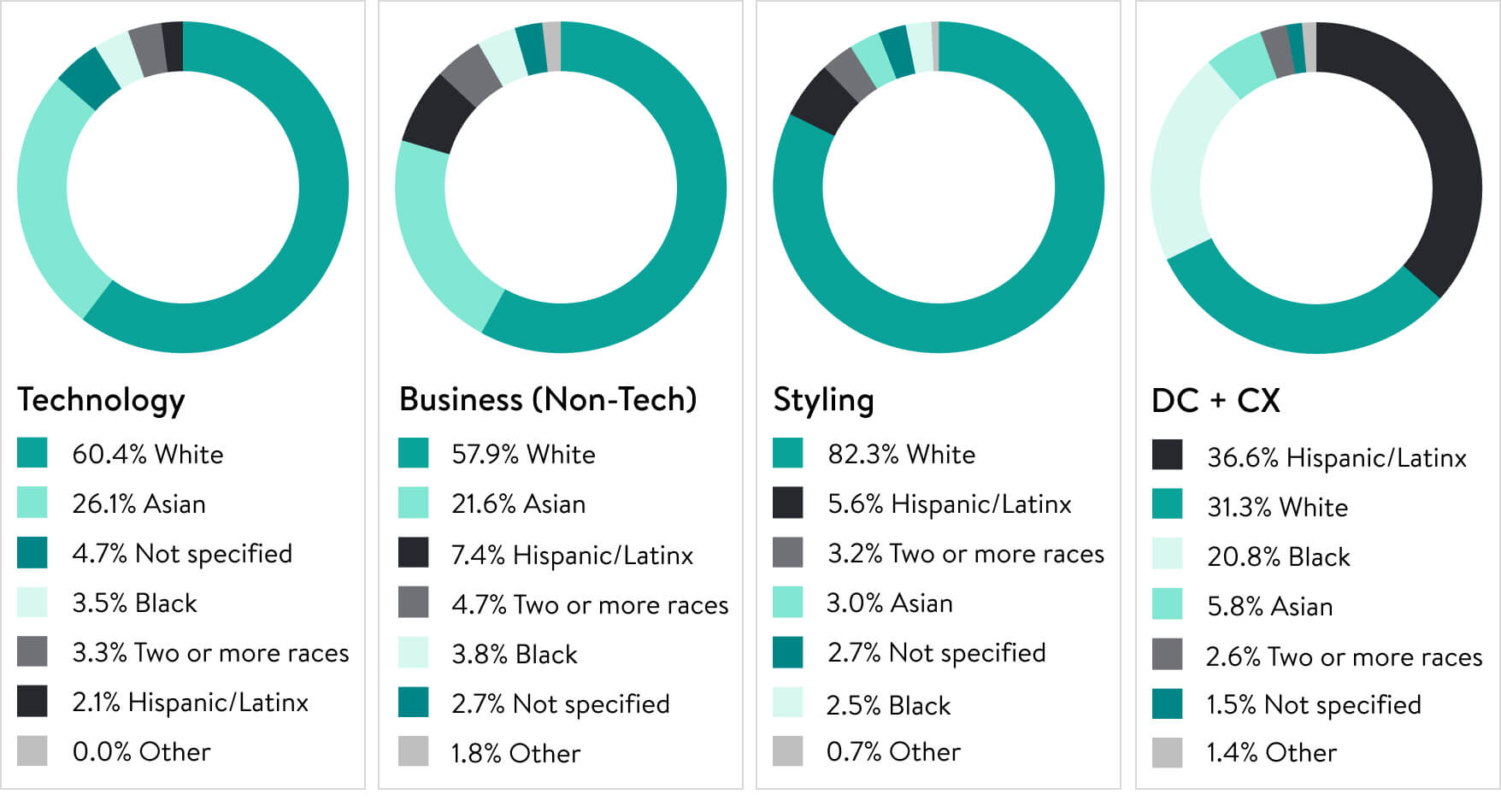 Leadership Racial/Ethnic Representation by Department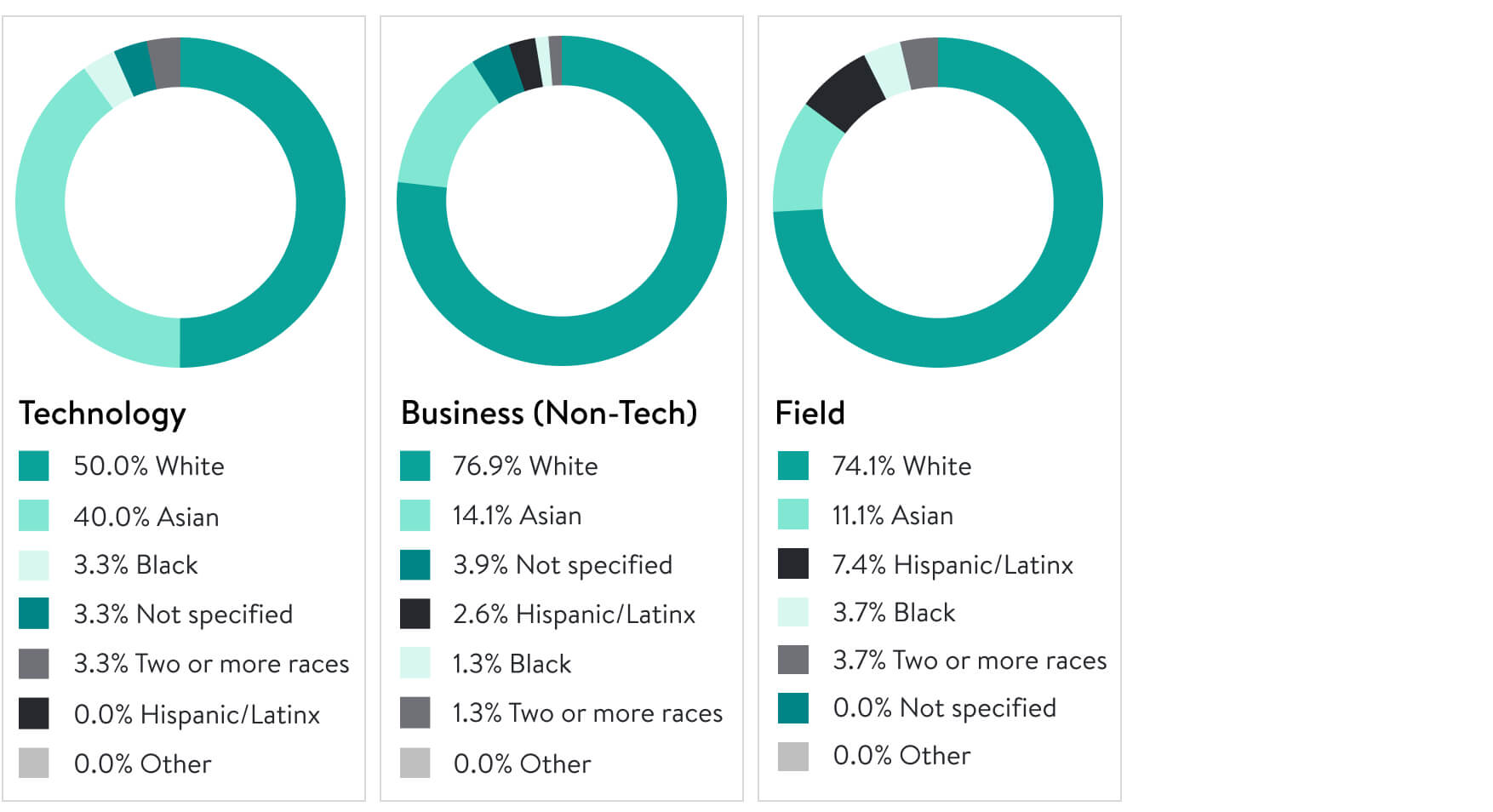 As these numbers indicate, we do not have nearly enough Black or Latinx people working at Stitch Fix, especially within our corporate teams. This is not right, and needs to change. We know we aren't alone in facing or tackling this challenge, and we are committed to doing the hard work.
We are dedicated to increasing Black, Indigenous and People of Color (BIPOC) representation and are putting a diversity, equity and inclusion strategy in place to do so. We are examining everything from our hiring practices, to the employee experience, to additional training and support for managers and creating more spaces for employees to learn and grow, to inserting more anti-racist and anti-bias mechanisms into our processes. Our goal is to use the full sphere of our influence to further diversify Stitch Fix because we know that diversity and representation in our community makes Stitch Fix better, our ideas stronger, and our experience more broadly resonant to the diverse client audience we serve.
Gender Representation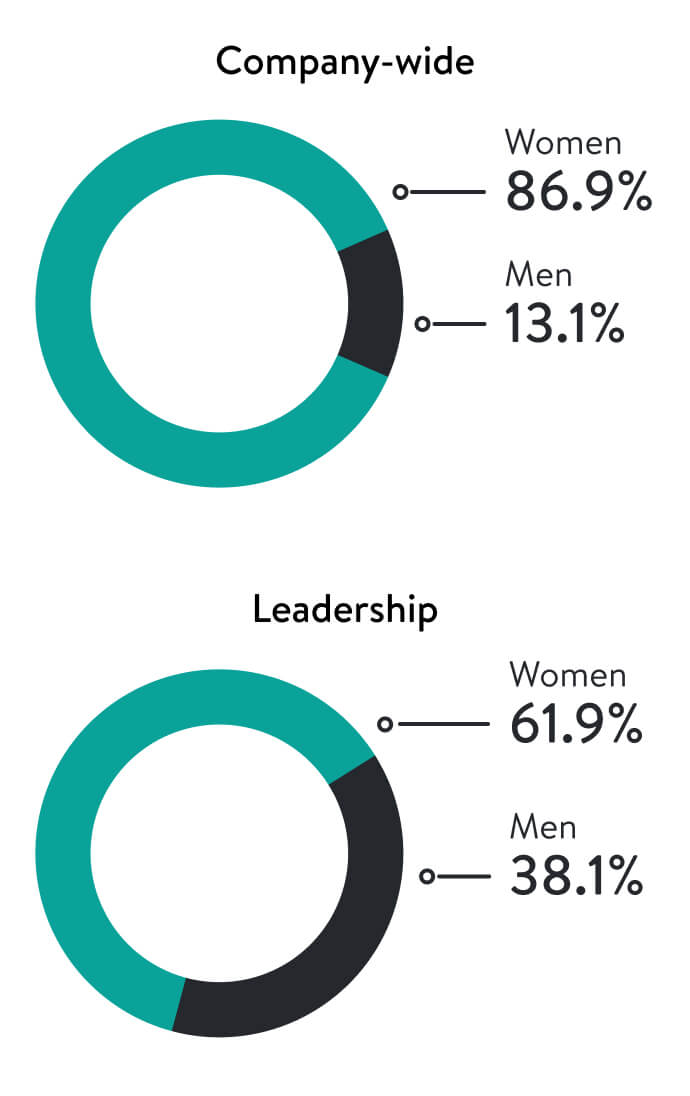 Gender Representation by Department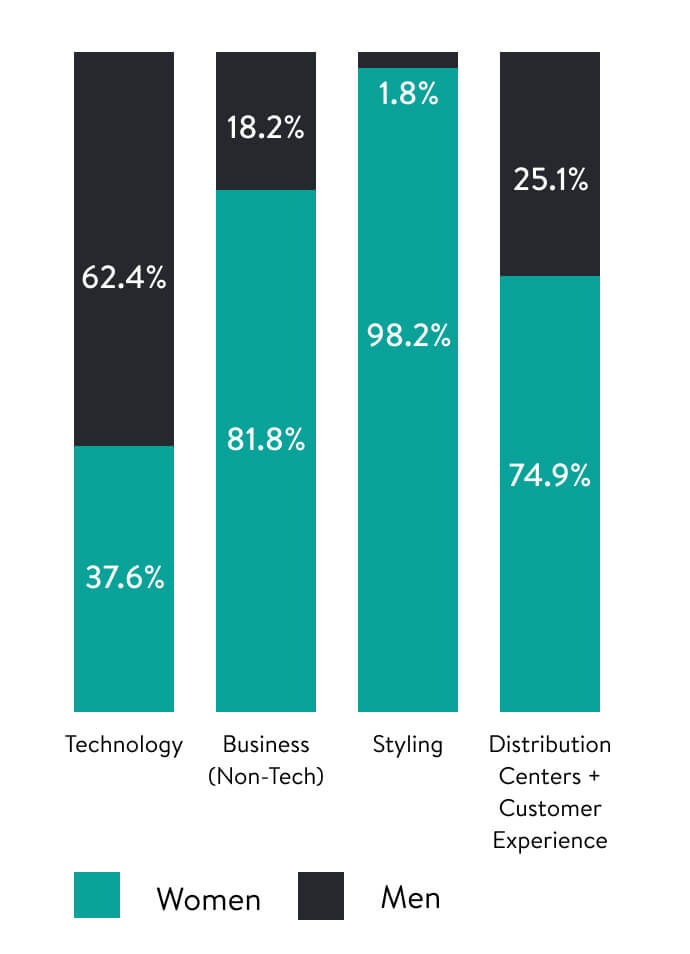 Leadership Gender Representation by Department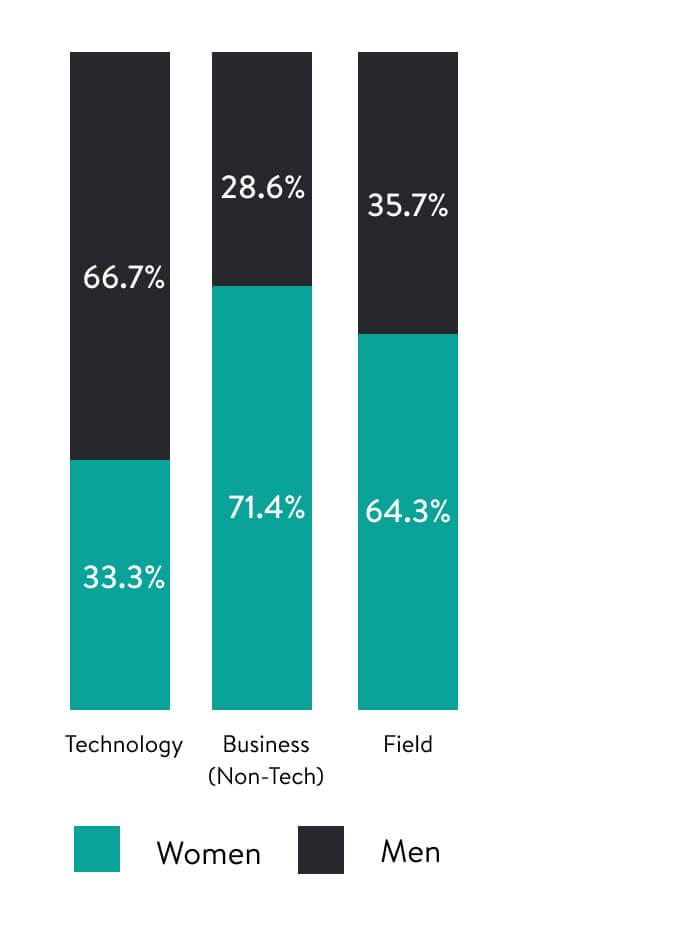 We are proud of the number of women working in our technical organization and in leadership positions across the company. (While not reflected above, our Board has also been recognized as being one of the most gender diverse of any public company.) We plan to dive deeper into how we've successfully attracted and retained this talent over the years, and leverage those learnings to make progress on racial diversity as well. Having a female Founder and CEO has made gender diversity an intentional focus from day one; we now need to bring the same level of focus to racial diversity.
In order to hold ourselves accountable to making progress, knowing this is a long-term process, we are currently at work setting a multiyear diversity goal. We want to be thoughtful and methodical in our approach, and galvanize our leaders and entire team around our objectives. We also plan to update our representation numbers annually every September alongside our Annual Company Report (starting next year), and discuss where we've made strides forward, where we haven't, and why.