Update Aug. 2021: We are excited to share that now, new clients can shop directly with us – no Fix required. At Stitch Fix, we are continually expanding and updating the ways people can find what they love, and we are so pleased to be able to bring this new, entirely personalized way to shop to everybody. We're looking forward to sharing more exciting new features in the future.
When we created Stitch Fix, our vision was to transform the way people find what they love.
We started with the Fix – a handpicked selection of five items that match your unique personal style, size, and fit sent directly to your door. Then last year, we were excited to bring you Shop – an easy way to browse and select items carefully curated just for you.
We introduced Shop with Buy It Again – offering new colors, prints, and sizes of your favorite Stitch Fix items. Then came Complete Your Looks, where we recommend outfits curated around the Stitch Fix pieces you love that are already in your closet.
As we approach the year's end, we're sharing a quick recap of the new ways we're making it even easier to find the clothes, shoes and accessories you'll love.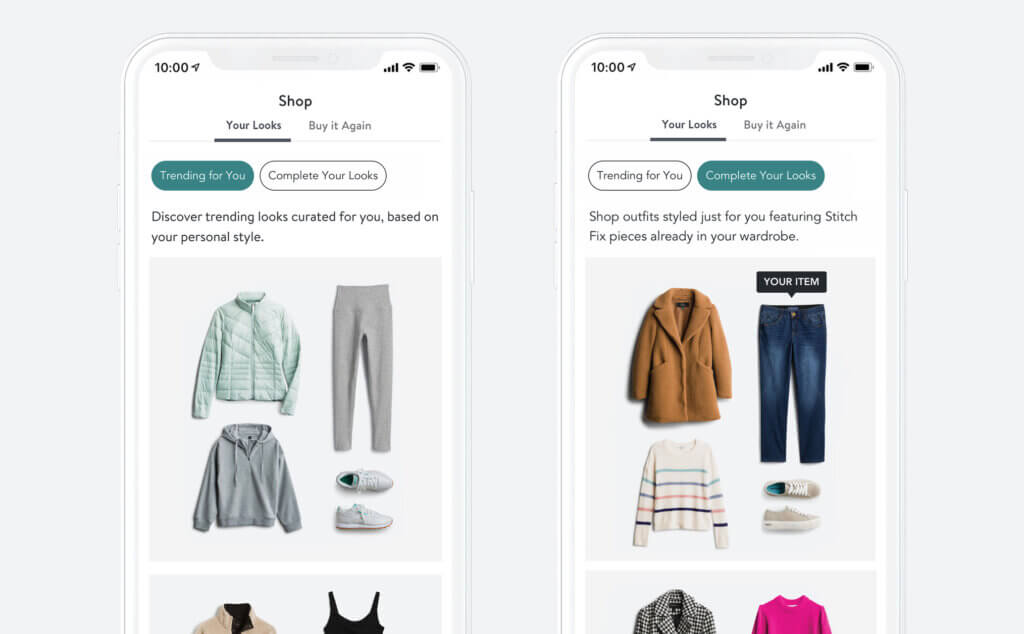 Trending For You
Launched in June this year, Trending For You recommends trending looks based on your unique personal style – even if you don't have any Stitch Fix items already in your closet.
Millions of data points from style profiles, Style Shuffle ratings and feedback on items clients buy – and don't buy – all help us to understand what you'll truly love and to make curated recommendations unique to you.
Shopping Bag

In August, we introduced the Shopping Bag feature—an easy way to save, shop and track the items you love across multiple devices with one easy click.
Similar Items

Live in your Shopping Bag or through Buy It Again, Similar Items shows you pieces that are similar to previous purchases you've made. And if you have items in your Shopping Bag that are currently out of stock, we make relevant recommendations to make it even easier to find the items uniquely suited to your style.
Trackable Returns

We're introducing new ways to easily manage your Stitch Fix purchases with our new return tracking feature. To give you that extra peace of mind, you can choose to receive shipment updates which notify you when you can expect to receive your refund.
These are just a few of the ways we're making shopping more personal and we're excited that it means we can help even more people discover the things that express who they are, fit with their life, and help them feel like their best selves.
Check back soon for more updates to your Stitch Fix shopping experience!