We're back with another installation of our series to introduce you to some of the many team members who are behind-the-scenes building your personalized Stitch Fix shopping experience. 
In this latest Q&A, Vice President of Product, Bindu Thota, who leads the product team specifically focused on creating innovative ways for our clients to engage with stylists now and in the future, shares what brought her to Stitch Fix and what inspires her every day.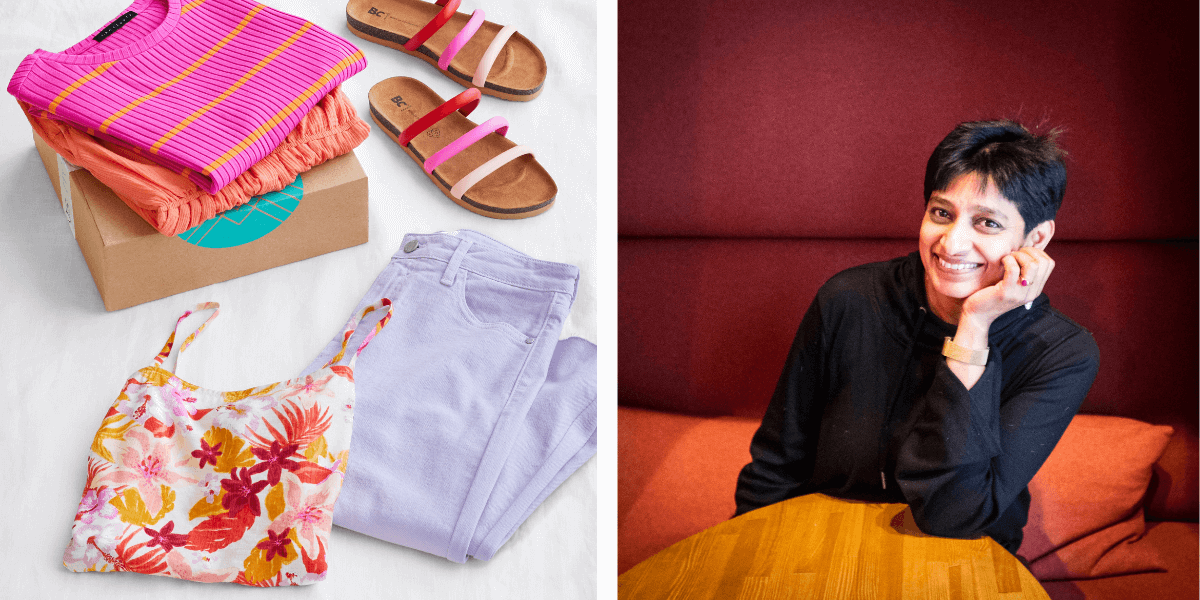 Q: Can you tell us about your background? 
Although I've spent the last eight years working on Product, I actually started my career as an engineer at Microsoft working on Office and Windows Media Center. During this time, I was so drawn to strategizing about what products my team could build that would serve clients, so I decided to make the switch from engineering to product. After Microsoft, I spent time at ecommerce and curation company Zulily, where I worked on product catalog & curation, pricing, and building its vendor portal, and at Meta on the Facebook Marketplace product.
I love working in ecommerce because it touches people every day. I was eager to take this industry experience and find an opportunity to build the future of retail that leverages the mix of art and science – which brought me to Stitch Fix. I've long been an admirer of the company and was eager to join when the opportunity came to me! 
Q: What are you focused on Stitch Fix in your role as VP of Product, Styling Services and Digital Supply Networks?
At Stitch Fix, our unique business model blends the human touch of expert stylists with our advanced algorithms to provide personalized recommendations. My role in this equation is to find new ways to bring the benefits of our styling expertise to our clients. We are constantly rolling out new avenues for this – last year, we launched Stylist Generated Outfits, which allow stylists to create and build outfits for clients to browse in Freestyle. These outfits allow clients to have that same level of stylist insight and personal touch while shopping on Freestyle. We are also currently working on helping Stylists exchange/swap items based on customer requests in Preview. 
Not all clients are the same – whether they love keeping up with trends and being involved in discovering new items, or they would prefer we take the wheel. My role is to lead the development experience for all our clients and delight them with the right product at the right price through the right experience. 
Q: What drew you to Stitch Fix?
The relationship between the client and Stitch Fix, whether the Stylist or the algorithms, really excites me. We receive such rich feedback from clients about the items they receive – how things fit and feel, if something is the right price, if an item is their style – and there are so many ways to harness this data for styling. 
Our stylists build meaningful relationships with our clients, and our clients trust our stylists, which means they're more comfortable sharing feedback – even personal information like pregnancy or when going through a career change. The feedback they share is so valuable for us to be able to personalize the items we recommend to them. Helping to develop an even deeper connection between clients and stylists is a big priority for me in the coming months.
Q: What aspect of Stitch Fix's culture inspires you? 
If it wasn't clear yet, I am client obsessed! One of the tenets of our culture is "Put the client first" and I firmly believe that. It's also one of the common threads that keeps my team on track as we develop new products and features – how will this delight our clients? I love that Stitch Fix has established this as a core part of their culture that all employees take pride in. 
Another one of our tenets is "Win as a team" and this is something that I focus on with my teams. I am always finding ways to put my team first and find opportunities for them to stretch into new roles, grow their skills, and work on projects that are meaningful to them, even if that means taking on more myself. This not only helps grow the strength of my team, but also builds trust and creates a positive environment. 
Q: What's something you care about that takes up your brain space outside of work? 
A: One area I'm very passionate about is mentoring; I mentor women in tech, fellow leaders, and startups through TechStars. Outside of work and careers, I'm also passionate about photography and love taking photos of landscapes and portraits. 
Q: What's the most interesting thing you've read, watched, or listened to in the past year? 
A: I listen to several podcasts regularly that inspire me in my work – Masters of Scale by Reid Hoffman focusing on building scalable products and companies, and How I Built This by Guy Raz focusing on innovators, entrepreneurs and idealists. I'm also fascinated by Behavioral Economics and listen to podcasts like Freakonomics by Stephen Dubner and Hidden Brain by Shankar Vedantam. One of my biggest influences in building products came from a podcast with Brian Chesky, the founder of Airbnb, where he discussed 'How to scale a magical experience' by designing an experience that customers would give a 11/10 rating for. I come back to this mindset when building products at Stitch Fix that will excite clients.  
Q: What's your favorite Stitch Fix purchase? 
A: I've been into jumpsuits lately and I love the Free People jumpsuit from Freestyle and the Kaileigh jumpsuit in my Fix.