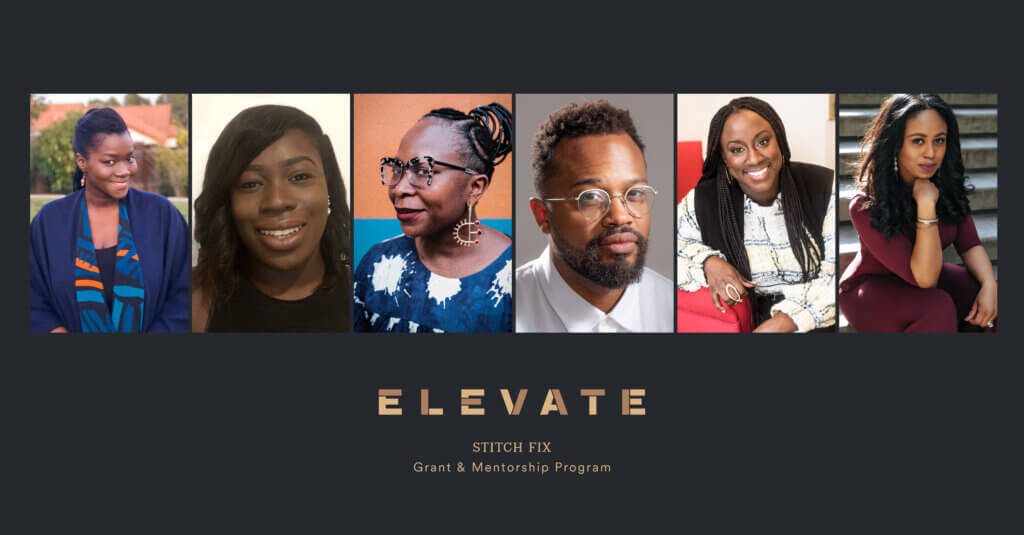 On October 1 last year, we began accepting applications for Elevate, our grant and mentorship program designed to support Black, Indigenous and People of Color (BIPOC) entrepreneurs in fashion at an early stage of business growth.  
We created Elevate to accelerate change within the industry and our own vendor base, in support of our vision for a more equitable and diverse retail landscape. As a company, we strongly believe in the power of mentorship and providing tools in addition to financial grants to ensure sustained impact and support underrepresented entrepreneurs in scaling their businesses. 
Elevate will award a $25,000 grant to each of our six recipients and provide eight months of advisory support from leadership across Stitch Fix based on the recipients' expressed interests, ongoing support from our Algorithms team, as well as mentorship sessions with our Founder and CEO, Katrina Lake, and Brandice Daniel, CEO and Founder of our program partner, Harlem's Fashion Row. In addition, recipients will receive amplification through our marketing channels and orders for their product to be sold on Stitch Fix as well as opportunities for connection among the grantee cohort throughout the program. 
Thank you to everyone who applied this year. We were overwhelmed with the response to the program and the caliber of applications we received. It was a privilege to dive into your stories and we are grateful for the time and effort that went into every single application we reviewed. We plan for Elevate to be an annual program and we will announce a call for applications for next year's cohort through our social channels and on this blog in Fall 2021. 
This year's winners are the first-ever recipients of this grant and the six brands selected span women's and men's apparel and accessories. These founders and designers demonstrated incredible vision, unique positioning in the market and clear missions that championed a range of important themes, such as inclusivity, sustainability and innovation. We are excited to share their stories with our community and introduce their offerings to our nearly 3.8 million clients. 
It is our honor to introduce to you the recipients of the 2021 Elevate program:
Diarrablu is a women's lifestyle brand with the mission to build an ethical and sustainable fashion future through a conscious merger of artisans and algorithms. Founded by Diarra Bousso, a creative mathematician and multidisciplinary artist, Diarrablu's size-inclusive collections feature strong, structural cuts and bold, iconic prints designed using innovative mathematical concepts. The majority of the line is produced in Dakar, Senegal and the brand uses traditional craftsmanship, algorithmic design, flexible sizing, and circular manufacturing to reduce textile waste. 
Kahmune is an inclusive luxury line offering a range of footwear and accessories designed in ten skin tone hues to provide all women with a true nude option. Featuring premium leathers sourced directly from Italy, each style is handmade by artisans with years of experience. As an advocate for diversity, inclusion and representation, Founder and Brand Director, Jamela Acheampong, was inspired to create Kahmune when she realized how hard it was to find quality, affordable products that matched her complexion. 
Busayo is a Brooklyn, NY-based fashion brand with two parallel guiding principles – a complete obsession and celebration of colorful prints and the amplification of traditional Nigerian culture. Founded by Busayo Olupona, the brand creates its textiles in collaboration with Nigerian artisans. Busayo means "addition to joy" and its founder considers joy a fundamental cornerstone of the brand, which comes to life through its dynamic, colorful offerings with a point of view. In addition to her work in fashion and culture, Busayo is an attorney.
Marcus Alexander is a design-forward footwear company headquartered in Oakland, CA that offers sophisticated, utilitarian footwear for men and women. Footwear designer Marcus Thomas serves as the brand's Founder and CEO. With a vision to improve the lives of others by elevating and simplifying their daily footwear needs, Marcus loves how shoes function as utility and art, and how this duality can empower both self-expression and self-preservation.  
Sarep + Rose is an ethical fashion accessories brand offering authentic, artisanal leather goods that feature a bright juxtaposition of traditional handwoven African materials and craftsmanship with contemporary design and functionality. With designs created in New York by Liberian founder Robin Sirleaf and leather sourced, cut and sewn in Africa, the brand's mission is to build a platform for the future of African manufacturing. 
Chloe Kristyn is an effortless yet elegant and functional line for the modern woman. Founded by Bettina Benson, the brand empowers women to celebrate their stories with the perfect fit and offers classic, figure-friendly silhouettes, designed to leave a beautiful impression. Thoughtful design, tailoring and subtle finishes, combined with a methodical textile selection process, results in a wardrobe that strikes an effortless integration of work and life. The brand is a proud advocate of the domestic garment industry, with the majority of its collection produced in the United States.
Click here to learn more about Elevate.