Earlier this year we expanded our offering with the introduction of Shop, giving Stitch Fix clients a way to discover and instantly shop a curated selection of apparel, footwear, and accessories built around items they had previously bought from Stitch Fix, all influenced by their unique style, fit, size and price preferences. It was a fundamentally different approach to ecommerce, and only the beginning of what we're able to do with our unique personalization capabilities.
Since we rolled out Shop to our US men's and women's clients in March this year, its popularity continues to grow – by May, one in eight women's clients (13%) had bought an item from the Shop, up from one in twenty (5%) in February. About 60% of clients who have bought an item are visiting Shop on a weekly basis.
Today, we're expanding Shop with the launch of our first "shoppable" collection. Available through an exclusive collaboration with Katie Sturino, body positivity champion, style influencer and entrepreneur, this is the first time people completely new to Stitch Fix can self select items from a collection and instantly shop personalized outfit recommendations, no previous purchase or Fix required.
Here's how it works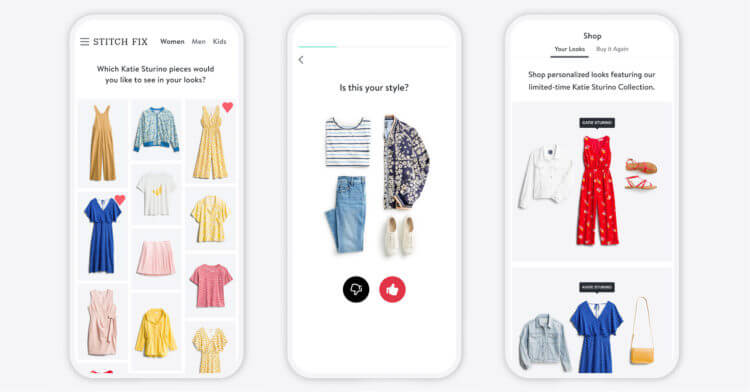 Shoppers select pieces from the Katie Sturino collection that they like, answer a few simple questions about their size and budget preferences, and tell us about their style through a few quick rounds of Style Shuffle. Style Shuffle is our interactive feature where a quick "thumbs up" or "thumbs down" tells us which outfits and items they like best, and helps us predict what other items they may enjoy, too.
Then we instantly share a selection of outfits entirely personalized to the client, for them to browse and buy. Each look includes the selected item from the Katie Sturino collection, styled alongside other items from our expansive inventory.
There are literally thousands of outfit possibilities, but at any one time we only show a few select looks that we're confident best suit an individual's unique style, size, fit and budget—no "endless scroll" here. However, as inventory is refreshed, so are the looks, meaning people can regularly check back for new, entirely personalized style and outfit inspiration, still featuring their favorite Katie Sturino collection pieces.
Understanding a new client's style from so few data points is made possible thanks to our unique combination of people and technology—our creative styling team's expertise in matching items to make complete outfits, and our Latent Style algorithm's deep knowledge of style preferences. Combined, they allow us to instantly understand far more about a new client's style, without ever even having to ask.
We're bringing this new direct buy capability to people via the Katie Sturino collection first, but are excited to learn from this launch and continue to expand this concept in more ways to reach more people. The technology we are building today is the key to eventually unlocking online personal shopping for everyone.
As more and more people try online apparel shopping for the first time, we're excited to be able to offer a different, more effortless way to shop. Shopping with Stitch Fix is like walking into your own personal store, combining what people love about traditional shopping – personal style advice and curation, great customer service, human connection – with the benefits of shopping online – choice, convenience, try at home with no commitment.
This "best of both worlds" model resonates now more than ever, and it's the perfect time to be expanding our Shop offering to more people. Whether clients prefer to have one of our stylists handpick items, pick out their own pieces through Shop, or both, they can trust that Stitch Fix will deliver a shopping experience uniquely tailored to them—and we're excited to see where we can take it next.