SAN FRANCISCO, Mar. 10, 2020 — We created Stitch Fix Inc. (NASDAQ: SFIX), an online personal styling service, to transform the way people find what they love. Primarily we've done that through Fixes, personalized shipments of apparel, shoes and accessories sent straight to our clients' doors. Fixes are curated by a unique and powerful combination of data science and our team of more than 5,000 professional stylists.
Last year, we began to offer some of our clients a way to also buy directly from Stitch Fix with Shop Your Looks. Shop Your Looks enables clients to discover and shop personalized outfits built around previously kept items, without waiting for their next Fix. Shop Your Looks is available for all of our U.S. men's and women's clients.
Like many initiatives at Stitch Fix, Shop Your Looks was born out of an experiment. Every Fix includes a physical Style Card, which shows clients how to create complete outfits from the items in their Fix. The Style Cards proved so popular with clients, they asked us to create a way to shop complementary pieces to go with the items they kept from their Fix.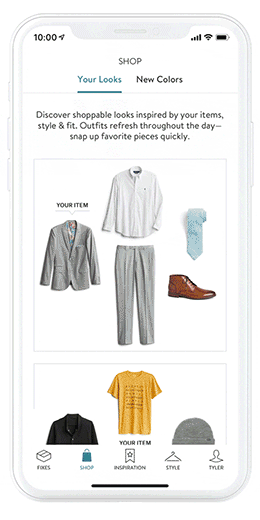 Clients access Shop Your Looks from the "Shop" tab on both mobile and desktop. Here they'll find an experience designed just for them with an assortment of items recommended with their own individual style, fit, and size preferences in mind and curated to complement items they've kept from previous Fixes. Clients' individual looks refresh throughout the day, so they can regularly check back for new style and outfit inspiration.
Shop Your Looks embodies our philosophy of combining the strengths of people and technology – our creative styling team's expertise in matching items to make complete outfits complements our algorithms' deep knowledge of individual clients' preferences to match the right outfits to clients based on their unique preferences.
We're excited to be able to offer clients more ways to interact with Stitch Fix in addition to the Fix, and look forward to developing and introducing even more ways for people to experience truly personalized shopping.