On Valentine's Day, Stitch Fix turned ten— a fitting date for our anniversary given our mission to help transform the way people find what they love ❤️. Here's a brief look at a decade's worth of Fixes, client moments, industry impact, and the road ahead. Whether you've been a client since the beginning, only discovered us last month, or are just starting to follow us now, thank you for joining us in this journey. With an increasing number of ways to experience apparel shopping built just for you, from Shop to live styling, we can't wait for what the next ten years will bring.
How We Started & How It's Going
In 2011, our Founder and CEO, Katrina Lake, was packing and shipping Fixes from her apartment in Cambridge, Massachusetts, maxing out her credit cards to buy clothes she hoped the women she was styling would love. She'd help them save valuable time and spare them the stress of shopping, lead them to discover something they might not find on their own in a store, and everything would fit perfectly and brighten their day. Katrina is still styling clients in 2021, alongside our more than 5,000 stylists and with the help of advanced data science. Together, this blend of human expertise and algorithmic scale allows us to serve 3.8 million women, men, and kids in the U.S. and the U.K.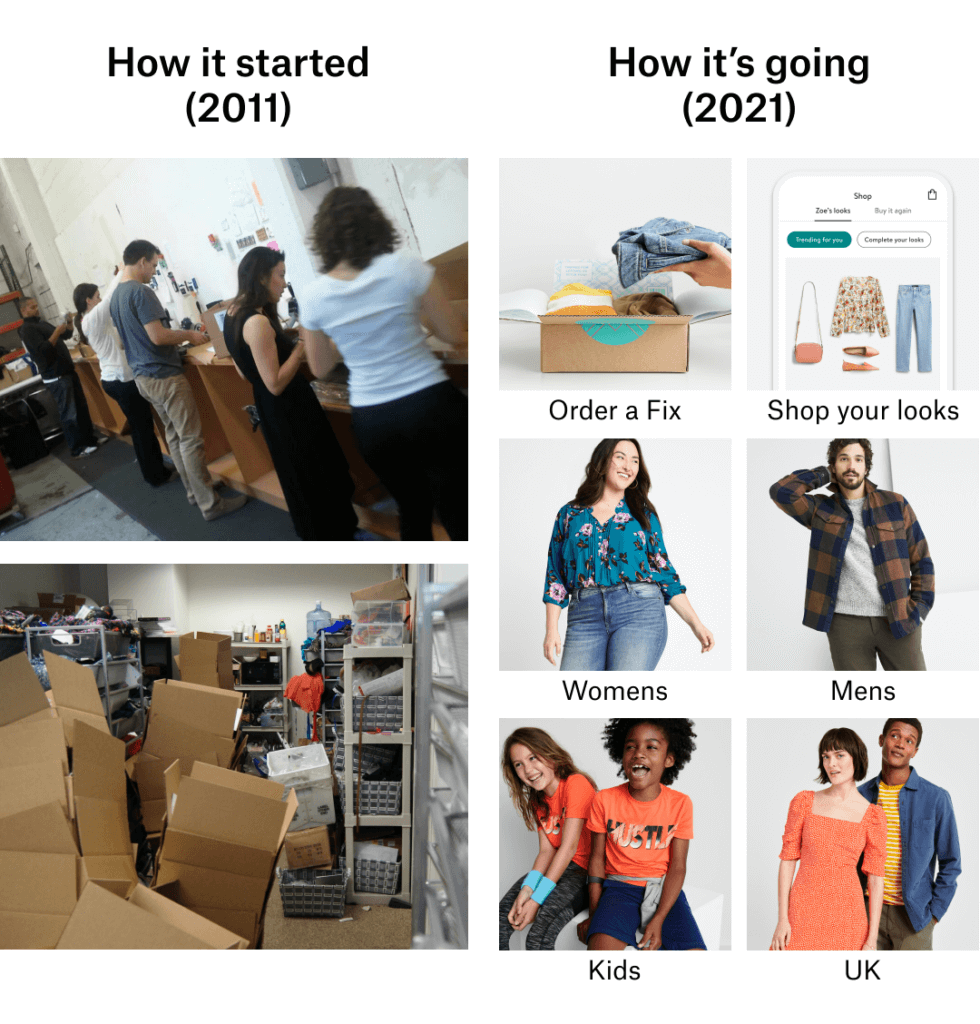 It's been a busy ten years. We've shipped tens of millions of Fixes. We've added Kids and Mens clothing, bringing personal styling to the whole family, and introduced Stitch Fix to people in the UK. We've also expanded our Plus offering, which has included the launch of size-inclusive (00-24) collections with designer Rebecca Minkoff and body positivity influencer Katie Sturino.
Early last year, we introduced direct buy, a way to purchase pieces selected just for you "a la carte," outside of a Fix. Your Shop is a personalized, feed-based browsing and discovery experience that's like walking into your own, highly curated online store. Now, whether you prefer to have items hand-picked by our stylists, select your own pieces or both, you can trust that Stitch Fix has a shopping experience that uniquely caters to you.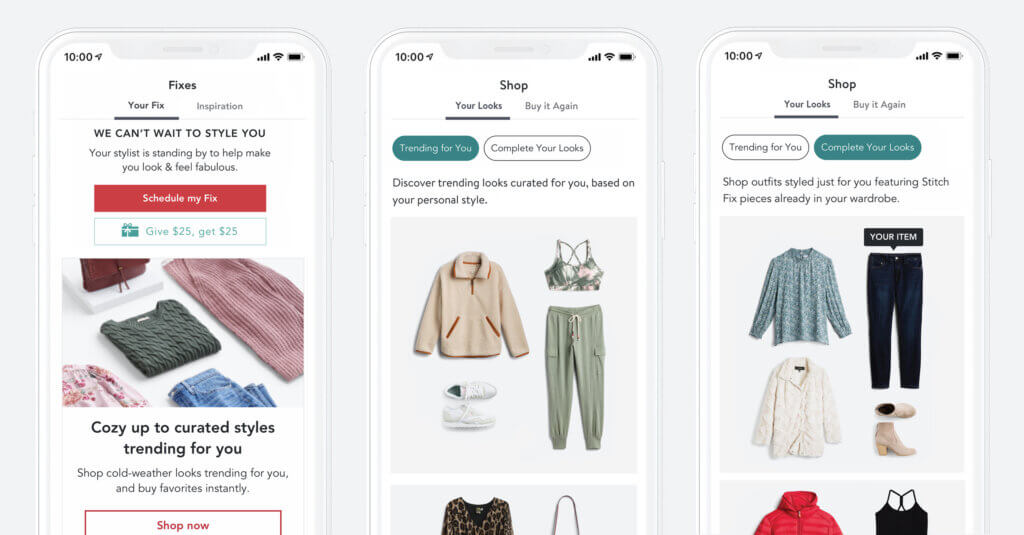 Stitch Fix Style: Comfort & Polka Dots
While we were reaching business milestones, we also saw trends come and go, but found that classic pieces – like a cozy knit – will never go out of style. Of course, we saw a notable shift to active and comfort styles last spring and we saw face masks soar into the top 10 most popular Extras items, but we had completely forgotten that in 2011, polka dots were the pattern of choice for our clients, or that it's been all about easy-to-mix-and-match solids since 2015. 
Whether it's a shift from polka dots to stripes, or suits to athleisure, our model is designed to quickly adapt to evolving consumer style and fit preferences. We can quickly respond to detailed product feedback and requests from clients, as well as the real-time trendspotting our Stylists and Buyers do, to offer what you want to be wearing in the moment.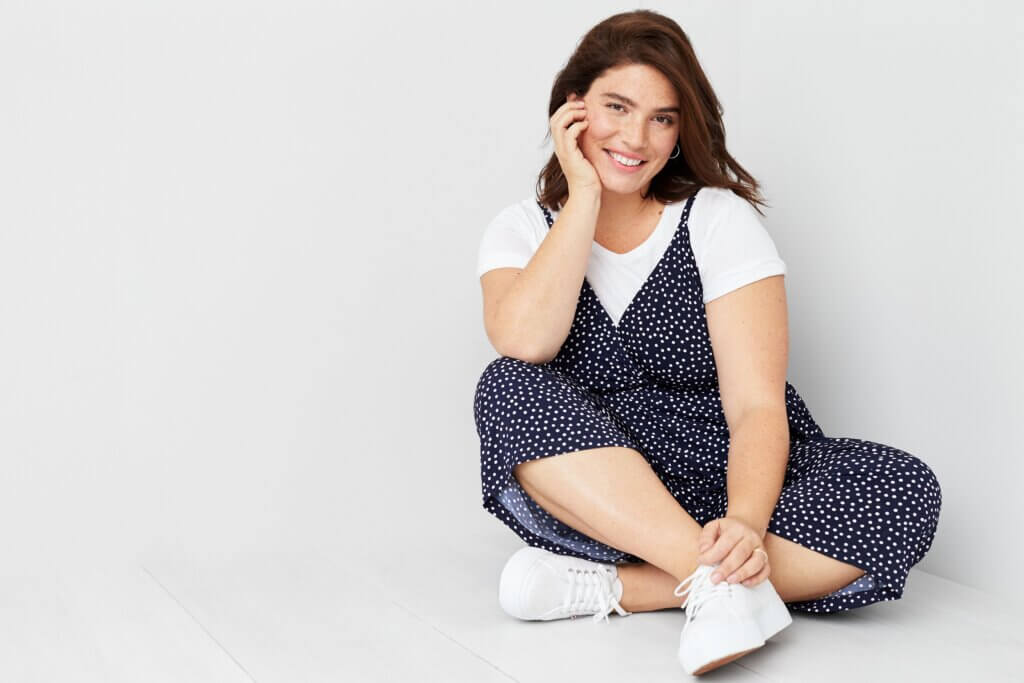 Grounded In Our Values & Our Clients
Through a decade of business growth, some things have stayed the same. We've remained driven by our mission and our purpose, and grounded in a set of shared values. We recently shared our broader social impact vision: to create, deliver and work toward a more sustainable and equitable world— inspiring and driving change across our industry and communities through our resources, influence and innovation. 
We set a goal to produce all of our own clothes with more sustainable materials by 2025, and partnered with organizations like Better Cotton Initiative, CanopyStyle and Sustainable Apparel Coalition to help achieve this goal and to do our part to help the apparel industry be more responsible. We also carry socially-conscious products from more than 40 brands, aligning with our ideals and moving industry standards forward.
Equity is woven into how we treat our clients, how we develop (size-inclusive) clothes, and how we engage with and influence our community. We are committed to sharing our company representation data, to pay equity across both gender and race, to increasing diversity in marketing and within our vendor base, and more. We've developed a grant and mentorship program, Elevate, to support the creation of more Black-owned apparel companies.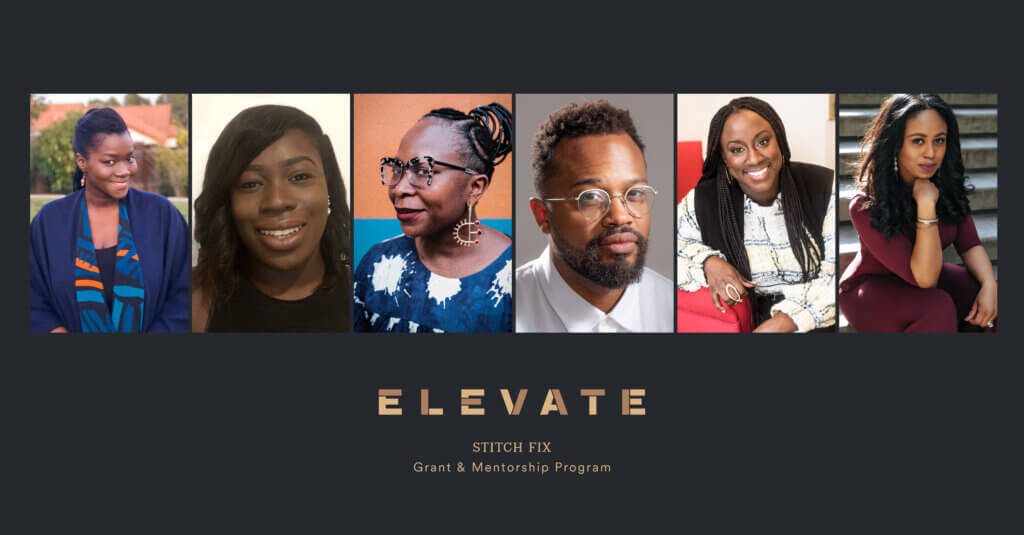 Above all, we remain committed to our clients. 
We believe that by helping our clients discover what they love, we can inspire people to be their best selves. We take pride and a real sense of responsibility in the meaningful impact we have on our clients' lives, and we take so much joy in being a part of their own journeys, sharing both everyday moments and special milestones like graduations, marriages, pregnancies, and new jobs, right alongside them.
The Future of Shopping is About YOU
We have always believed the future of shopping is personal, and we're excited for what the next decade will bring on our journey to transform the way people find what they love. Expect to see even more ways to engage and interact with Stitch Fix, your Stylist, and your Shop; even more styles, trends and occasions to shop with us; and count on us to continue to push ourselves and the industry forward on issues of equity and sustainability. 
Here's to continuing our personal style journey together!