On our journey to transform the way that people find what they love, we've brought advanced data science and the human touch of our expert stylists together to serve millions of clients and analyzed billions of data points on fit, style preference, and more. 
This starts when a client signs up for Stitch Fix and completes their style profile: we learn more in minutes about them than most traditional retailers or e-commerce companies ever do, gathering an average of 85+ meaningful data points from how often a client dresses for certain occasions to how they like clothes to fit and which parts of the body he or she might like to flaunt or cover up. 
The style profile is just the beginning, though. Style changes and evolves over time — today a client might be interested in refreshing everyday staples in their wardrobe, next month they might have an exciting event they want a new outfit for and a year from now they might be interested in transforming their style — and we're able to capture those constant shifts and changes through a variety of real-time feedback loops: from Style Shuffle, a quick and easy way for clients to share feedback on items and outfits we're adding to our inventory; to the items clients browse and buy in Freestyle; and importantly, through Fix Request Notes, where clients share what they'd like to receive in their next Fix. 
For example, in her Fix Request Note, a client might share that she'd love a dress for an upcoming wedding: "'I'm attending my cousin's wedding in October. looking for something that is appropriate for the cool weather, dressy enough, but still flattering. I love the floral dress that was sent a few months ago and may wear that unless you can find something better!" Our Stylists, in partnership with our algorithms, use what a client shares in their note to curate the right assortment of items for their Fix.  
What makes this data unique
When we zoom out across our more than 4 million clients, we have hundreds of thousands of Fix Request Notes each month that share detailed feedback with our Stylists and algorithms. This real-time feed of information has created a wealth of data that we use not only to personalize the client experience, but also to provide insight into macro trends in apparel. 
This dataset is unique because it's both personal and honest. Clients want their Fixes to match their taste and needs, so they are direct about what they want and don't want, what worked or did not work previously; and they also share context about why. This gives us a view beyond fashion styles and into the lifestyles of our clients. The feedback could be anything from asking for items that are a "step above athleisure" for a client who is still working from home and wants comfortable but camera-friendly items for Zoom, to asking for a stylist to share new cuts of jeans because they saw on TikTok that skinny jeans are "cancelled". 
Further, Fix Request Notes are an objective look ahead at what clients want next. Typically, companies trying to predict or spot consumer trends with data only have access to information that gives a "look back" – customer ratings and reviews, purchase histories or return logs. Those traditional sources also tend to include biases – from the customer's experience influencing a review to mistakenly purchasing a wrong size or color – which makes the data quality poorer. 
How we leverage this data
We can analyze Fix Requests notes with Natural Language Processing (NLP) tools to refine product recommendations and importantly, spot trends. With these inputs, our recommender systems can ensure stylists see a cozy but dressed up top for Zoom calls or don't see skinny jeans as they're curating a client's Fix. 
Importantly for our merchandising teams, we can spot trends early by running Fix Request notes through these NLP tools. Some of the defining trends we saw during 2021, as shared in our inaugural Style Forecast, include: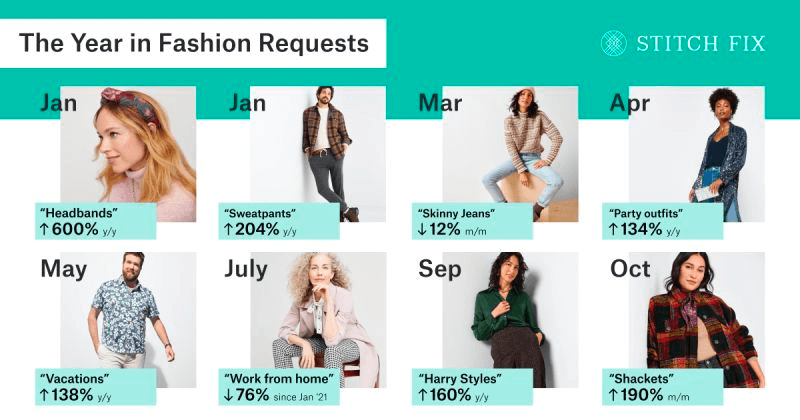 We also use NLP to determine whether a request is positive (i.e., I want a pair of skinny jeans) or negative (i.e. don't send me skinny jeans). Let's take a look at how the positive and negative mentions of 'skinny jeans' in request notes have changed over time among our women's clients in the US: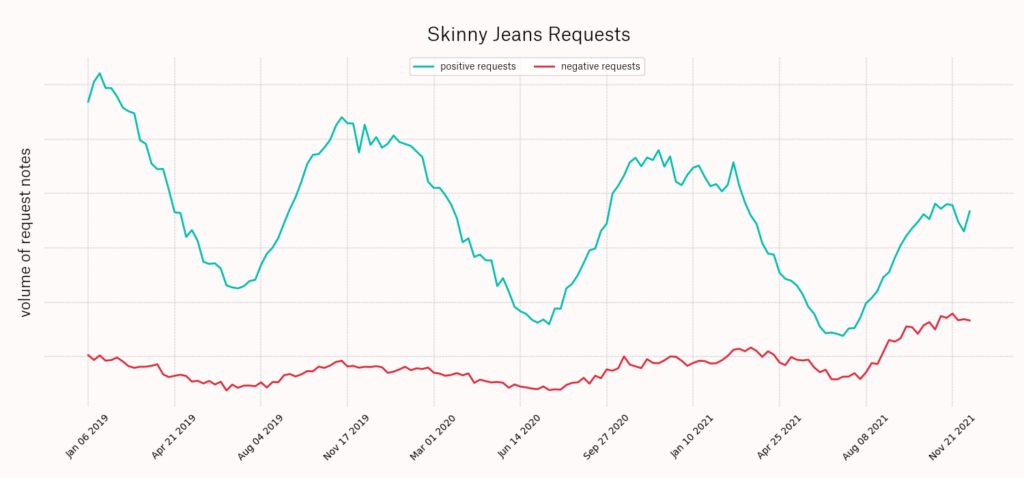 You can see that jeans are a seasonal item: requests taper off in the summer and pick back up in the colder months. By separating requests positive and negative intent in request notes, we can see that positive requests for skinny jeans have been steadily decreasing over the past three years and negative requests have been steadily increasing, with a much sharper uptick in the latter half of 2021.
Let's take a closer look at trends we can spot in just positive request notes. At the onset of the pandemic, we could very clearly see the shift in what our clients wanted. Requests for blazers — an item that was a popular request for clients going to the office — immediately dropped off, while requests for joggers — a previously less popular request for clients — skyrocketed as clients all needed more comfortable bottoms for their lockdown attire.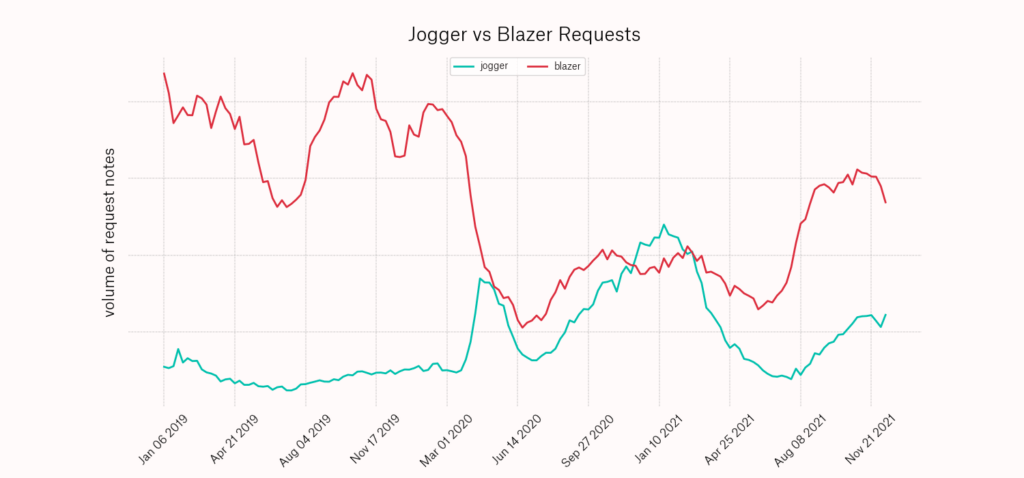 Fix Request Notes have played a critical role in the Stitch Fix experience since the beginning. Not only are they the foundation for creating connections between our clients and their personal stylists, but they also create a roadmap of what styles our clients want in real-time as well as how those preferences have changed over time. You can take a closer look at this proprietary data combined with our Stylist insights in our inaugural Stitch Fix Style Forecast, which offers a pulse on the latest styles and shopping preferences trending in real life, with our clients — not just the fashion runways.