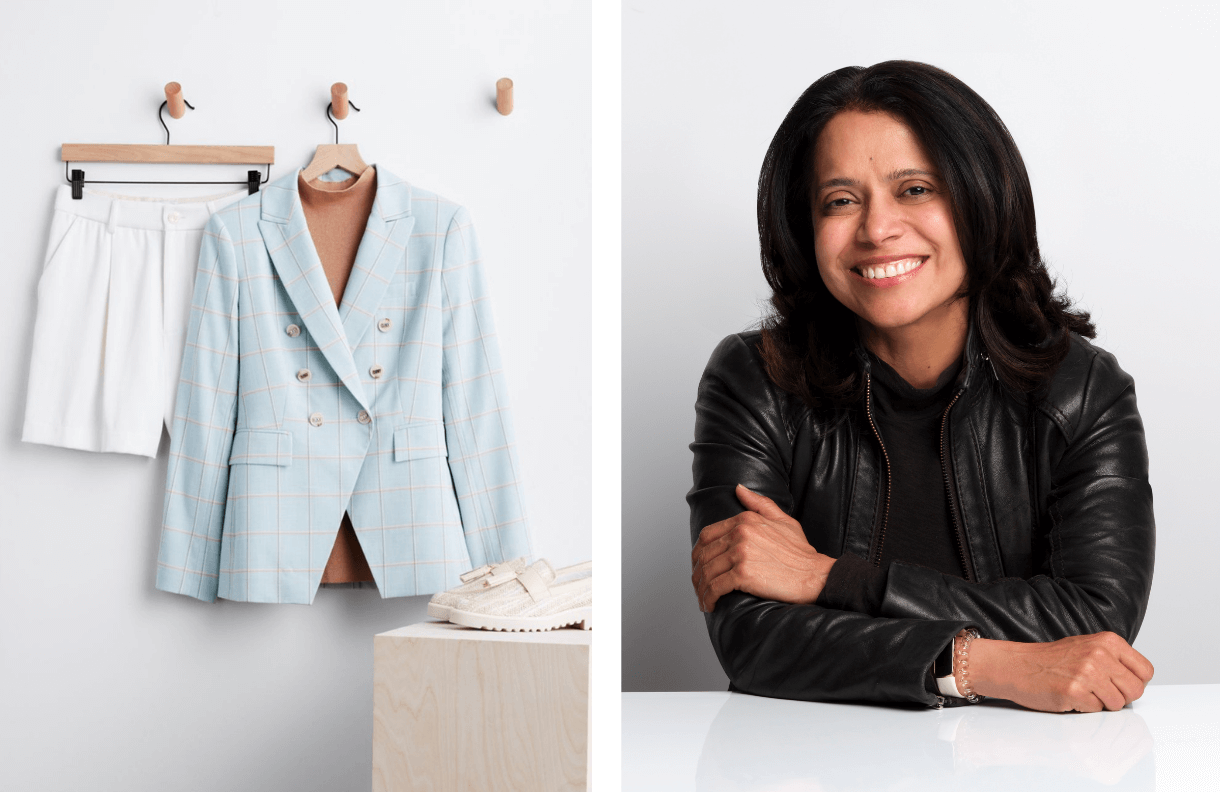 Today, we're bringing you the first in a new series of Q&As to share more from some of the team who are building the Stitch personalized shopping and styling experience. 
First up is our Senior Vice President of Engineering, Manju Thomas, who recently joined us to lead the team building impactful experiences for our clients through engineering. Learn more about Manju's career journey and fascinating background, as well as a little more about what she loves about Stitch Fix and the innovative work she's most excited about in the Q&A below. 
Q: Can you tell us about your background? 
A: I've spent more than 20 years working in technology, across both product and engineering. Most of that time has been with companies and in roles focused on e-commerce, a space within the tech industry that has been so ripe with innovation. Before joining Stitch Fix, I spent 12 years at PayPal where I led Paypal's identity and customer acquisition initiatives across both product and engineering. I also recently spent time at Shopify, leading product for merchants services, and at Google, where I led the Cloud commerce team to enable Google Cloud's business and revenue growth. All of these experiences prepared me for Stitch Fix as we take on the new chapter of growing our business and continue to make Stitch Fix more accessible, relevant and engaging to our clients. 
Q: What do you work on in your role as SVP of Engineering? 
At Stitch Fix, we're helping clients find what they love, so they can be their most confident, authentic selves. A crucial part of this client experience is to connect our clients with our team of expert stylists, who help clients find items that are personalized to their size, fit and style.
In my role, I'm leading the team building products and experiences that bring together the incredible technology and data science expertise we have with the unmatched human touch of our stylists – for example, we're exploring new ways for stylists to provide advice to clients outside the Fix experience. 
Q: What drew you to Stitch Fix? 
A: Working in the e-commerce space for as long as I have, I've admired Stitch Fix for being such a disruptive force in our industry for over a decade! Stitch Fix is the perfect fit when it comes to my experience and my passions: building client centric ecommerce experiences, and I absolutely love solving problems that have a real impact on people every day. Stitch Fix has always been an innovative leader when it comes to both culture and technology – creating a first of its kind online retail service with a positive culture of development and teamwork – so I've been so thrilled to dig in with the team already! 
Q: Can you tell us about your leadership style?  
A: One of my biggest strengths as a leader is cultivating a collaborative work environment. I really value my team being able to share their points of view with me. Creating a culture where they feel empowered to share their opinions is imperative to me – there's nothing more powerful than having an opinion and being brave enough to share it.
I also cultivate decisiveness and bias to action for my teams. I'm focused on making decisions and moving forward because by taking a step in any direction, we'll learn more than if we're stuck in one place. 
Q: What aspect of Stitch Fix's culture drew you to the company? 
A: As a female-founded company, and one that has so many women in leadership roles, I could see very early on in my conversations with the team that diversity, inclusion and equity was more than just words at Stitch Fix. It's been amazing to see now that I'm here just how supportive and inclusive our culture is, especially for women in product, engineering and design. I've always wanted to be a part of a team that so genuinely and authentically prioritized inclusion. 
Q: What are you most excited about at Stitch Fix?

A: It's hard to pick just one thing! Between 10 years of the Fix and recently launching Freestyle, we have such rich feedback from our clients. They share more information with us than with other retailers, meaning we understand them better, spot trends early and are able to react to meet their needs faster. I'm excited to harness this data to build even greater client experiences. 
One area in particular I'm excited to work on is to create new ways for our clients get access the expertise of our stylists, whether that's "Stylists Tips" on the home feed (introducing clients to new trends + shoppable items that match the trend) or finding new ways for Stylists to create trend-forward shoppable outfits for clients.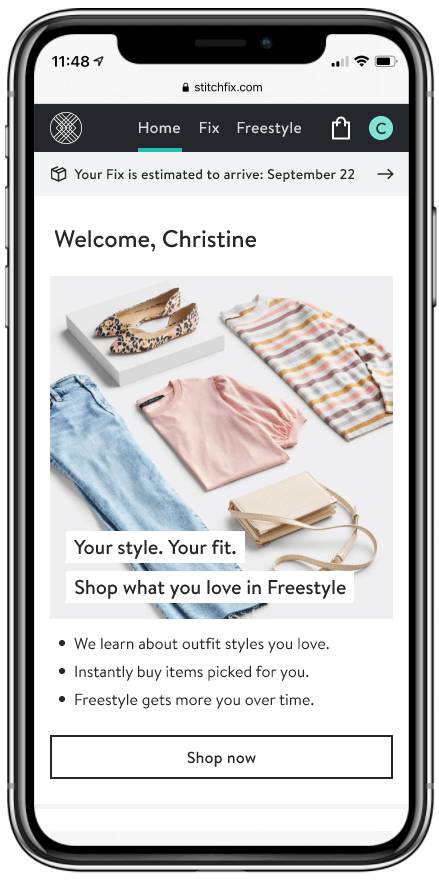 Q: What's something you care about that takes up your brain space outside of work? 
A: Being an ally and mentor for other women in the tech industry is very important to me. I've experienced how impactful it can be, so I am committed to paying it forward – early in my career I had a leader who believed in me more than I believed in myself, and it helped me take bold moves that led me to where I am today. These relationships have been incredibly rewarding – I see this as a mutual learning opportunity, as I've learned so much about team building and inclusion from people I have mentored.
Q: What's the most interesting thing you've read, watched, or listened to in the past year? 
A: There are two books that have greatly influenced me in the last year. The first is My Life is Full by Indra Nooyi, which was very relatable for me as an immigrant building my life in America. The second is The Infinite Game by Simon Sinek, which changed the way I build products and teams. I also enjoy the "How I Built This" Podcast, because I love being inspired by the stories of how entrepreneurs built their business. 
Q: What's your favorite Stitch Fix purchase? 
The Wrap Front Ruched Knit Top from Stitch Fix exclusive brand 41 HAWTHORN in a recent Fix fits just perfectly and is my new go to for comfort and style!