This month, we took a look at the data our 3.8 million clients shared with us between May – July and surveyed over 1,200 clients to help paint a picture of what was in with our clients this summer and what's trending as we head into fall. 
Business Comfort is on the Rise as We Return to the Office

Back to office outfits reemerge as a priority for clients this season. 
• Over a quarter (28%) of clients say they're shopping for office wear in the coming months, with workwear as a top-three trend in Fix Request Notes to Stylists between May and July. 
• But comfort is still top of mind with knit blazers, pull on pants and woven tops with stretch maintaining popularity.
• Novelty tops are another category of workwear loved by clients. Ruffle and flutter sleeves, wrap and surplice shapes in fall shades, such as rust, mustard, and warm neutrals are emerging as fall favorites.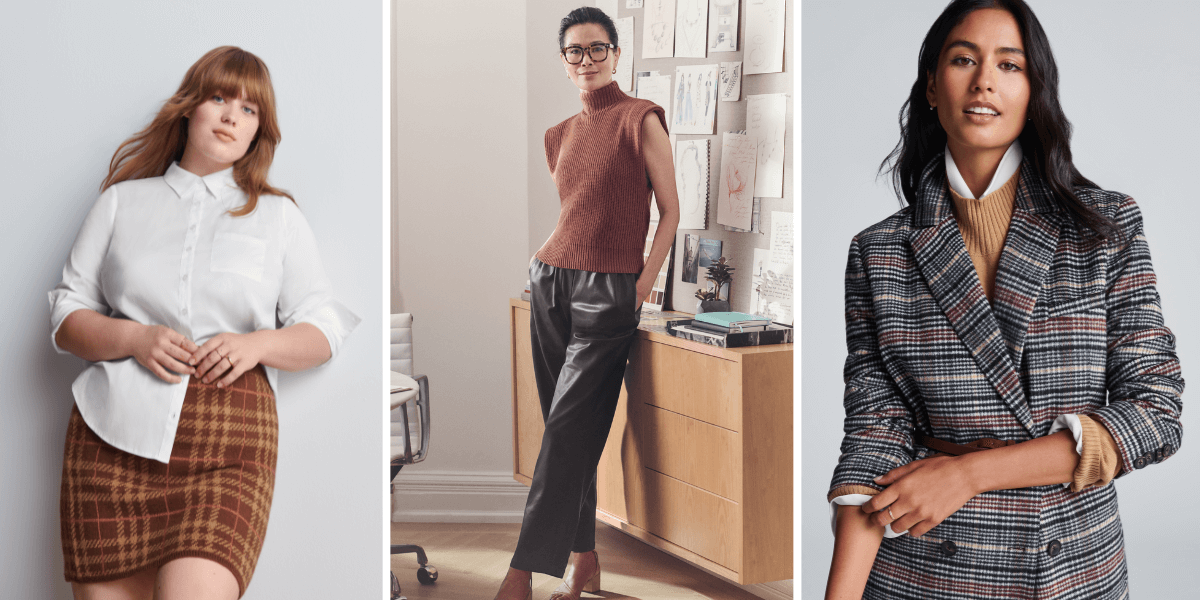 Clients Are Spicing Up Their Nightlife Looks with New Materials and Styles

Social events are back – and they are increasingly becoming moments to discover new styles and trends. 
• Nearly 2 in every 5 clients (39%) say they're shopping for social and nightlife occasions in the coming months and will be looking to go out of their comfort zone and try new materials.
• In particular, accessories and footwear in materials such as straw and raffia proved popular this year compared to last – growing 30% in revenue since last year, and seasonal bags were up 16% in revenue compared to last year, proving the "coastal grandmother" trend continues to excite clients. 
• Building on clients' interest in expanding into new materials, 44% of clients say they would like to venture into wearing items with woven details this fall.
• We can also expect to see cut outs, tie details and touches of lace popular at parties and events.
The Dopamine Color Rush Continues — Dressing to Boost Your Mood Through Your Look 

Clients are playing with color and they're excited to explore new color trends more this fall.
• 65% of clients are excited to continue exploring new hues and prints, such as houndstooth, pinstripes, and animal prints, with 56% saying they would like to branch out from the traditional fall color palette.
• In Q4, saturated colors were popular with Freestyle shoppers, while neon colors saw a 124% sales increase since last year, confirming clients are still experimenting with "dopamine dressing," trying new colors that bring joy to their everyday wardrobe.
• When asked what non-traditional color palettes they would be interested in wearing, 74% of our clients said they would like to try jewel tones, like ruby, emerald, and sapphire, in their fall wardrobe.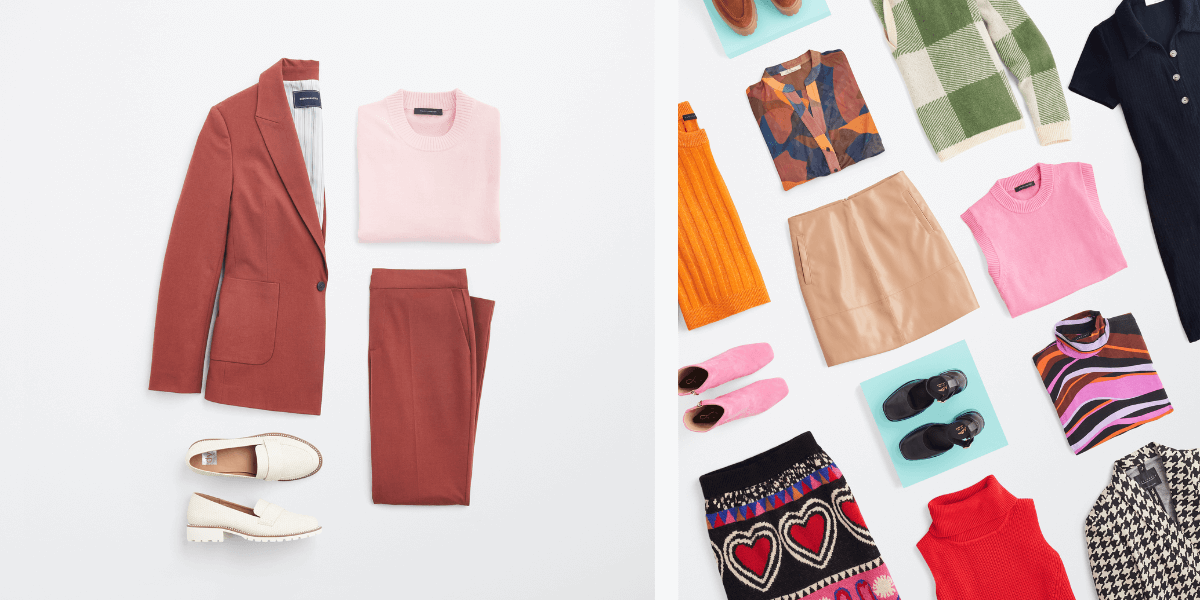 Men Are Taking a Swiss Army Knife Approach to Their Closet — Choice and Versatility

Men's clients are building a more versatile wardrobe that they can transition from work to weekend.
• We're seeing the most growth in woven tops, denim, and footwear categories compared to the same time last year. 
• One item that has continued to be in demand is polo shirts, which clients see as a versatile wardrobe staple that spans multiple uses – from athletic, to work, to weekend wear. Fashion polo shirts with heavier, thicker knits such as sweater polos, are also a new hit amongst our clients.
◦ A majority of men – 83% of surveyed clients – said they'd wear a polo for weekend casual wear, while 70% indicated they'd wear polos for going out and 65% said they'd wear polos to work – showing how versatile they can be. 
• Athleisure continues to be a priority for men, rising as a percentage of men's revenue by 25%. However, men are choosing athleisure that can be worn every day, on weekends, and even to work, versus true performance activewear. Over half our men's survey respondents said they prefer to buy versatile athletic/sports clothing vs. pure performance. 
• Men are also embracing new summer fabrics and textures, specifically trying linen-based styles across knits, wovens, and pants/shorts this past quarter. 65% of surveyed clients said they'd try linen materials in the fall.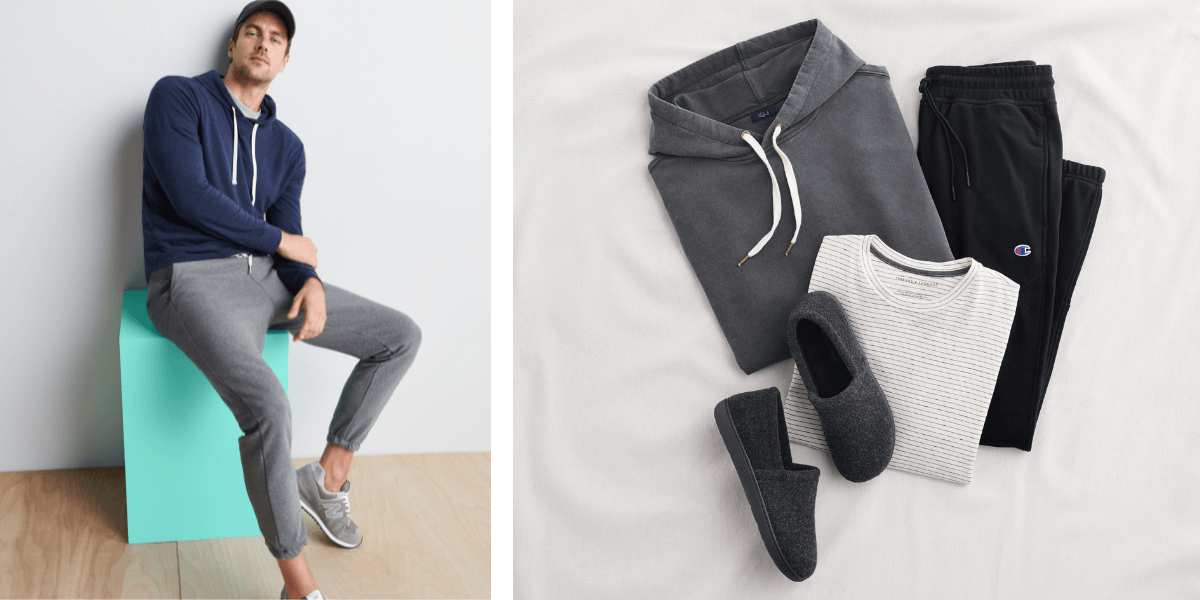 For more insights on style and shopping trends from this past year, check our Summer Style and Travel Insights from June. We'll be releasing our second annual this winter – keep an eye out for more!