Finding the right fit and size for the clothes that we wear is challenging. While the industry has made strides in size inclusivity, it's been slower to adapt and evolve for men.  
Most menswear is designed to a "standard" size and fit combination — either short, tall or regular, and XS-XL — but in reality, bodies don't fit a standard size. We've taken a data-driven approach to ensure every man can find a great fit and reimagined different pieces of clothing for their wardrobes to better serve men with unique builds. 
The evolution of Men's fit preferences
At Stitch Fix, we're not only offering a wider breadth of sizing than most retailers — from XS up to 3XL — we've also introduced more nuanced fit options within those sizes based on shifts in our client's body types and their fit preferences. 
When it comes to fit, our Men's clients preferences have evolved in the past year, moving away from "one fit for all" clothes and into more tailored styles. We've taken these signals from client feedback to integrate more fit options within one style, ranging from: skinny, athletic, husky and more. For example, most clients within the XXL and 3XL sizes are more likely to have husky body types, so most of our fits across those sizes now align with the husky body type; while smaller sizes of the same style now reflect a "regular" fit. 
Our data-driven assortment
The idea of offering these nuanced fits across sizes and styles is unique to Stitch Fix, and an extension of our mission to create a personalized, seamless shopping experience for our clients. Let's take a deeper dive into how fit and size is influencing our assortment for Men: 
Blazers & Sport Coats
As Men's clients head back to the office or back to dressier social events, we've seen a 3x increase in requests for suits from last year. Finding the perfect fit for a sports jacket for those events is especially challenging after a year where our body types have changed while we've worn less structured clothing. 
As our team pored through feedback and data for sports jackets, we reimagined the fit for two of our exclusive-to-Stitch Fix brands, Artefact and Fairlane, so that every man can find a great fit. Key improvements to the design that we made to accommodate for the husky and athletic builds of our Men's clients in sizes XXL-3XL include: reducing sleeve shaping/contouring to less of a bent arm shape; increasing front length to appropriately cover girth; adding heavier weight interlinings to ensure shape is held; and shortening the sleeve cap proportion to accommodate arm hang for larger clients.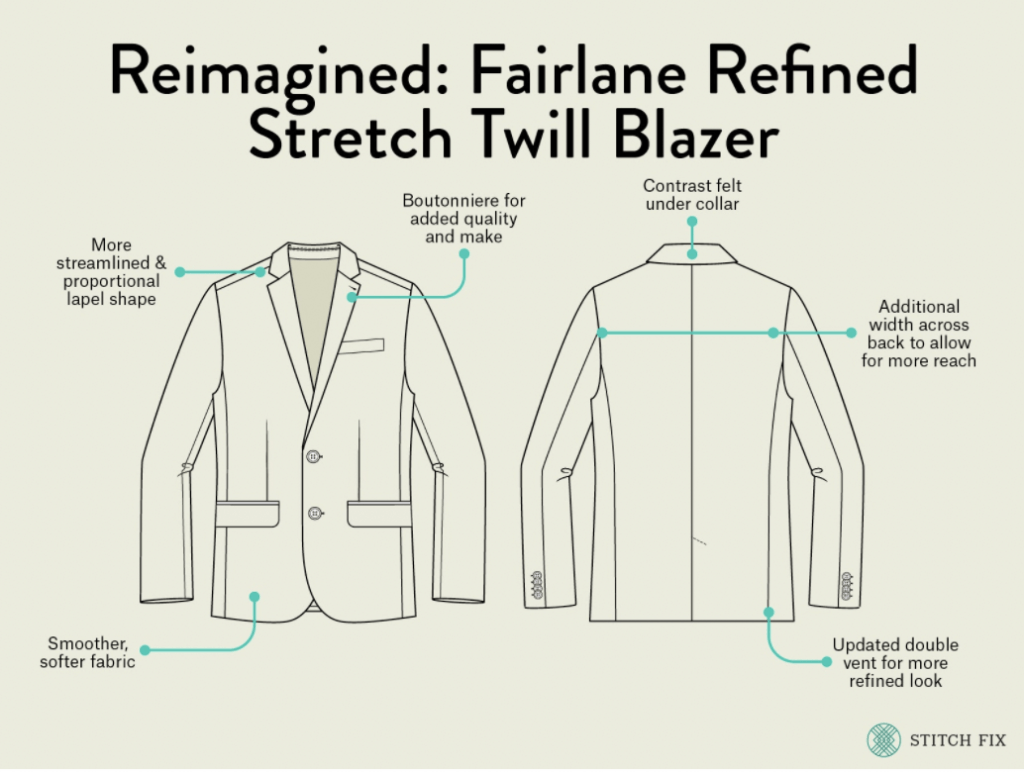 We've partnered up with NFL stars Kyle Pitts, Fred Warner, and Marquise Goodwin to help us launch a dedicated shop filled with these new, size-inclusive sports jackets and items to style them with, which men can purchase directly from the site for the very first time using Stitch Fix Freestyle.  
Shorts
We saw an influx of feedback that many of our Men's shorts styles were "too big". hen we dove deeper into the data, we learned that the real issue was that inseams were too long. When we looked at the product options that we were offering, we unlocked clear directional data around what inseams of shorts to send specific clients based on their height and their short inseam preference. Putting these insights in the hands of our buying and styling teams, we've seen significant increases in our client's fit satisfaction for shorts (+7% y/y for some styles).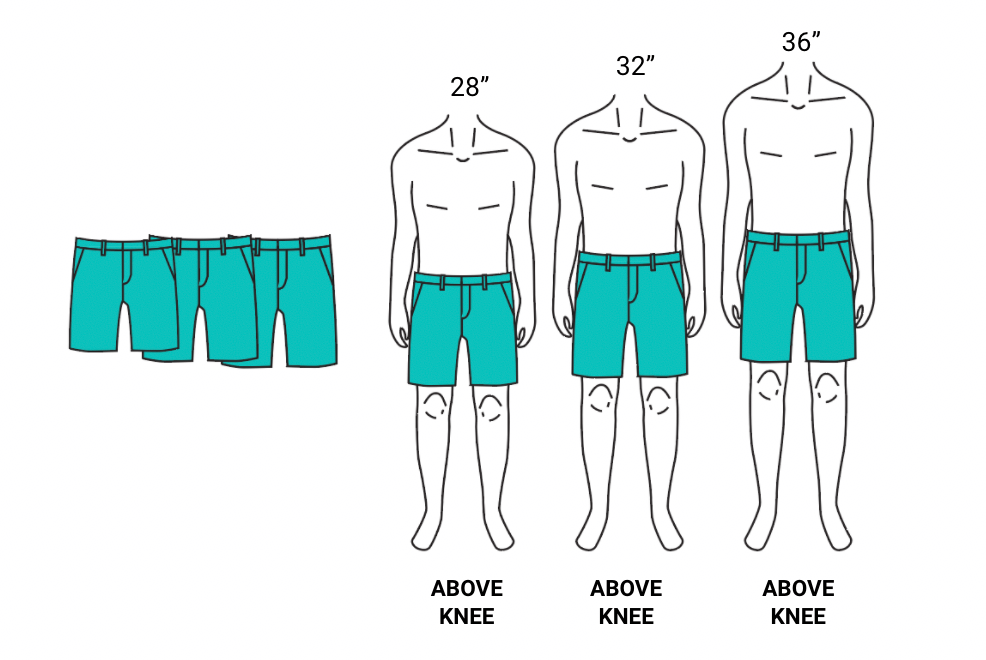 Rendering of Men's shorts with different inseam lengths to accommodate
for different fits within the same style of "above the knee" shorts. 
Sweaters
Before our data analysis of sweaters, we had only mapped to standard and tall lengths for Men. Similar to shorts, clients had shared feedback that a lot of sweaters were "too long" — but for sweaters, the feedback was specific to the length of both the standard and tall styles. Based on our study, we determined that our current sweater offering should consist primarily of short lengths. This shift in inventory has driven a strong uptick in feedback from our clients that their sweaters fit "Just Right".
Woven Shirts
Our XXL-3XL Men's clients shared feedback that fits at the waist area of our woven shirts were too tight, so we made the decision to modify the fit. Now, exclusive-to-Stitch Fix styles in larger sizes no longer have shaping at the waist to allow more ease. We are testing this change on a few key woven shirt styles and will closely monitor these test styles to see if client fit satisfaction improves.
As trends and preferences continue to evolve, our data-driven approach to design and inventory curation will help us continue personalizing the shopping experience for each of our clients by finding them the perfect fit.