As companies begin to re-open their office doors to employees in full force, we're sharing insights on return-to-office fashion, how our clients are feeling about getting dressed for this work-life transition, and what they are looking forward to wearing.  
We've gathered these insights from our Merchandising team, that understands what's selling best and why, and Fix Request Notes, the note clients leave for their Stylist to indicate what they'd like to receive in their next Fix – plus findings from a new back-to-work survey of over 1,300 U.S. Stitch Fix clients.
People Seek Confidence From a "First Day Back Outfit"
While the majority of clients (57%) are excited to put outfits together again for work, many (22%) are unsure of what to wear to the office now, and about half (48%) say they need a new work wardrobe because their pre-pandemic work clothes feel out of date. 
Heading back to the office brings "first day" jitters for some – whether it's a new job or a new team, or just not having seen their coworkers in a few years – and many clients are asking for looks that will help them feel confident.
• Fifteen percent of clients are feeling the pressure to dress differently after a long time out of the office, and nearly two-thirds (64%) say they want to make a good first impression "IRL"
• Nearly 2 in 3 (64%) say that having a new outfit that they feel great in will bring them confidence on their first day back
• Unsurprisingly, over 1 in 4 women (27%) heading back to the office have planned a "First Day Back" outfit
In fact, client Fix Request Notes that mention a "first day of work outfit" or "first day look" in January and February were double from the same time last year. 
Here is a snapshot of what clients shared with their stylists:
I have no idea what to wear back to the office and I'm really nervous about meeting a lot of my coworkers for the very first time.
I'd love to start building my wardrobe for my return to office so I can feel confident going back!
I'm looking forward to returning to working in person soon! Would love to have a cute outfit to look forward to for my first days back with my team.
Starting my new job! Would love a knock out outfit for the first day, maybe a blazer (that also can be worn casually), slacks, blouse? Thank you!
Saying Farewell to Business Formal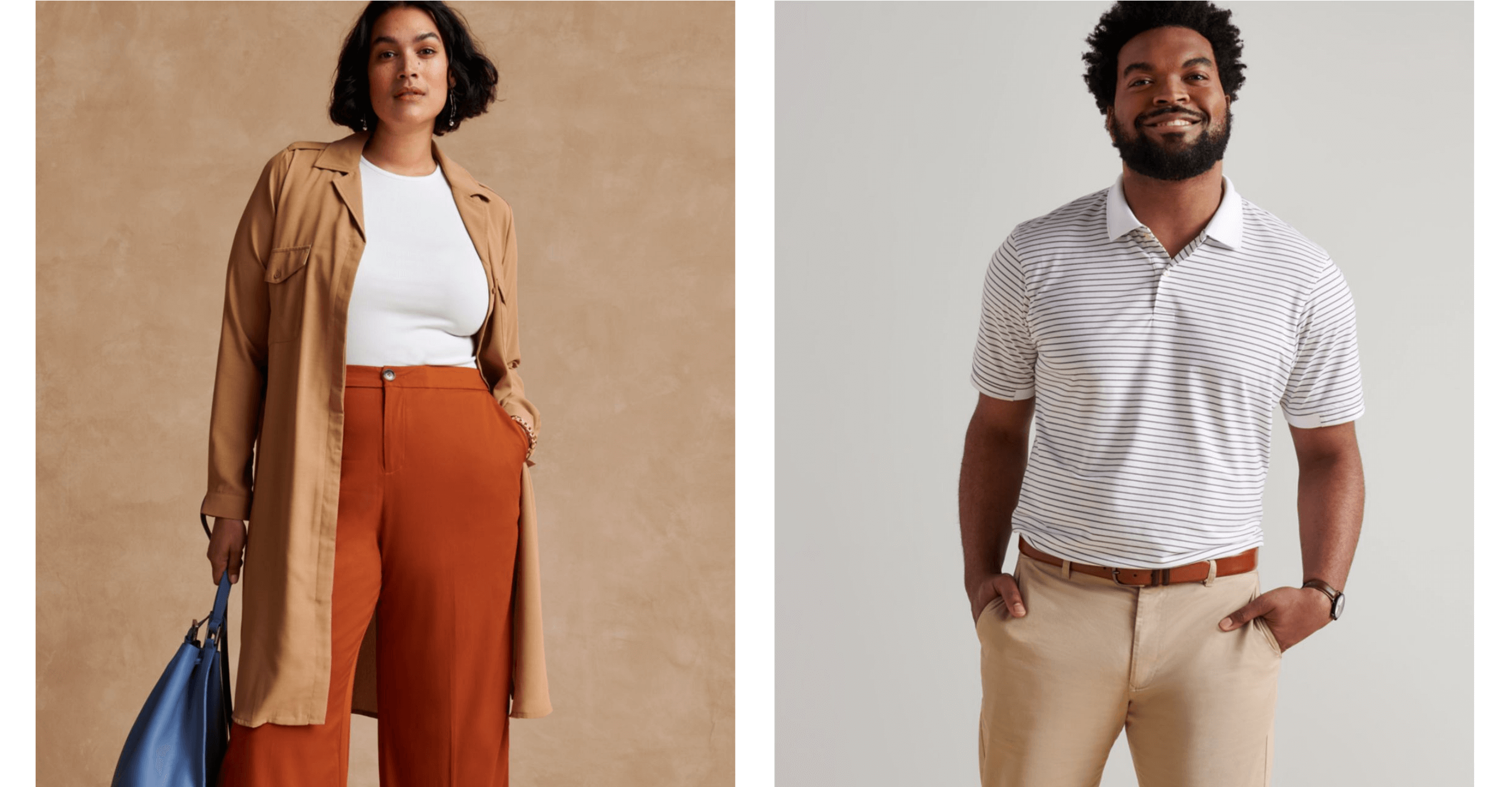 In December, we shared that nearly a third (31%) of consumers report they would rather take a 10% pay cut than have to get dressed up for work every day – and we're seeing this trend towards comfort play out this year.
We've observed a meaningful shift away from "business formal" dress codes to "business comfort". Half of clients told us their workplace has become more casual in this post-COVID environment.
This spring, about 80% of clients heading back into the office will choose "business comfort" over traditional workwear. Above all else, they're looking for more comfortable, professional styles: 
• Nearly 7 in 10 (68%) women say they'll be wearing more relaxed silhouettes versus structured pieces in the office
• Related, it's about an even split between women who plan to wear elastic-waist pants (47%) versus a fitted waist (53%)
• Men will also choose relaxed (57%) fits over structured (43%), and blazers (89%) over suits (11%)
• In fact, 40% of men say they'll be wearing fewer suits in the office post-pandemic
Knit materials, that offer a stretch-comfort fit, are increasingly popular for workwear and we've seen tremendous growth in styles from this fabric. In 2021, Women's knit tops revenue was up over 30%, knit dresses over 40%, and knit pants were up over 75% from the previous year.
The workwear trends he wants to try this spring

*

The workwear trends she wants to try this spring

*

Casual blazers
Fashion sneakers
Slip-on shoes


Polo shirts

Stretchy trousers / pants
Relaxed fit shirts / blouses
Blazers that feel less corporate


Flats / loafers

*As reported by Stitch Fix clients in March 2022 survey
The casualization of the "lower half":
Zoom tops became a pandemic wardrobe staple as people prioritized comfort for the lower half and style for the screen. With the return to offices, we're seeing a trend towards the continued casualization of the "lower half," with a transition out of yoga pants and slippers into other casual cuts and styles.
• Women are more likely to opt for jeans (58%) over trousers, and men are gravitating towards jeans (53%), rather than chinos 
• 84% of women say they'll be wearing more flats versus heels in the office, and about half (49%) of men are excited to try or have tried fashion sneakers
Dresses, the one-piece outfit with no pants required (!), are also surging in popularity as clients seek easy, comfortable looks for the office. Dresses revenue grew 40% from 2020 to 2021, and we saw outsized growth with styles like the loose-fitting maxi dress (+65%) vs. more restricting fitted silhouettes that were up just under 15% year-over-year.
Work Clothes Need to do Double Duty for Leisure
As the lines between work and leisure continue to blur, it's clear our clients expect their wardrobe to do "double duty". They are gravitating towards pieces that are polished enough for the office yet comfortable enough to wear in their free time.
• About half of client respondents (47% of women, 52% of men) say they wear the same clothes to work as they do on the weekend and outside of work. This is even more prevalent for those under 30, 60% of whom say there's no distinction between the clothes they wear in-office or outside of work hours.
• Men are also leading the trend: our data shows they are increasingly choosing "performance pants," like hike and golf pants, for the office – a style that clearly transitions into the weekend. For 2022 year-to-date, revenue for this category on Stitch Fix is up over 180% from this time last year.
The New Workwear Style Staples to Try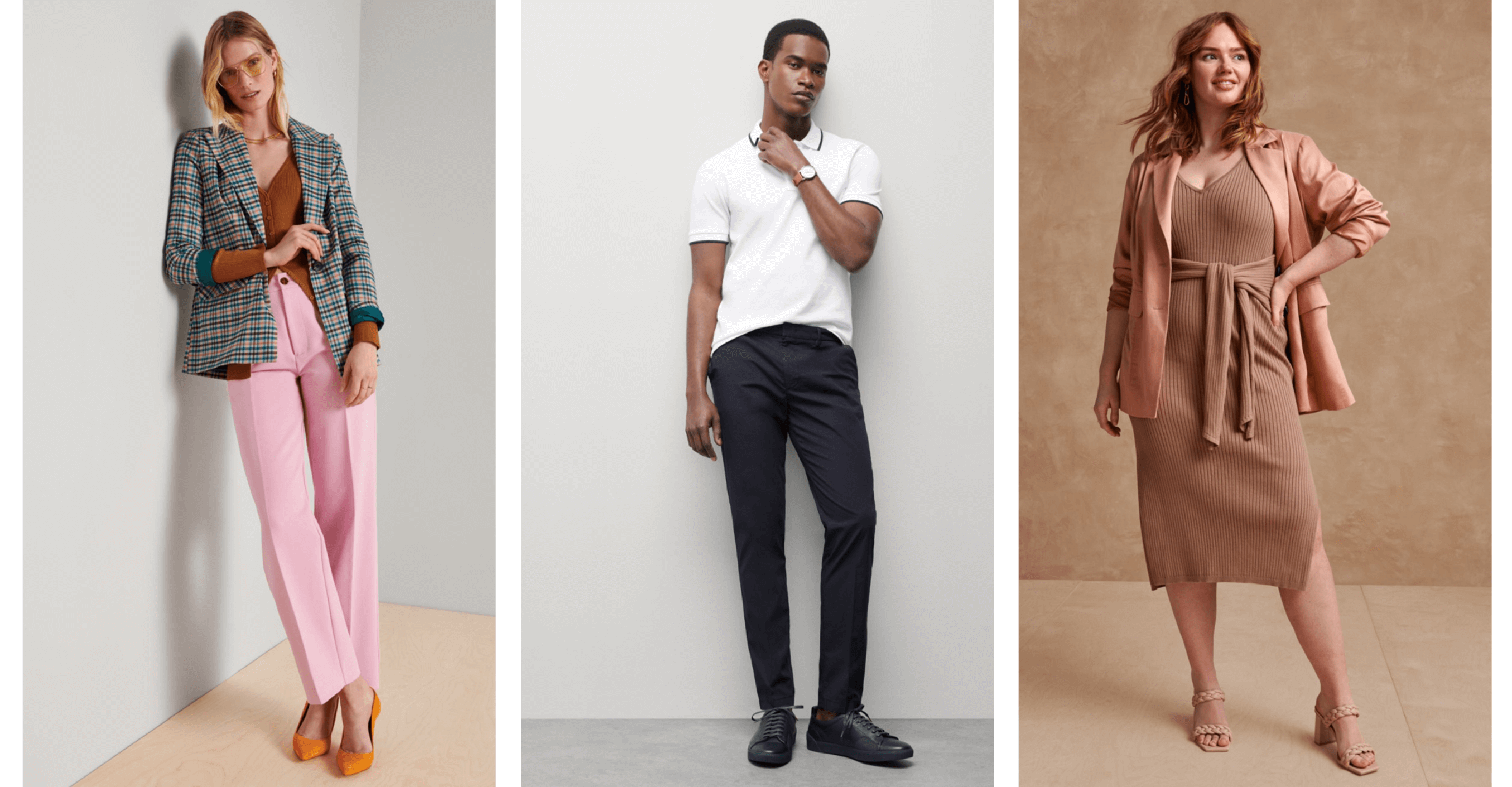 As people consider what items to prioritize as they update their work wardrobes or curate a "First Day Outfit," our Chief Merchandising Officer, Loretta Choy, has a few expert recommendations on the core styles to have in your closet:
Women's Styles
• Blazers – boxier blazers pair well with jeans, over a dress or with loose-fitting trousers. This is a timeless staple!
• Knit dresses – try a more fitted, stretch style to compliment your figure. These are perfect for going from the office into the weekend or a social gathering.
• Looser trouser silhouettes with an elastic waistband – wear these to work, or with a fitted tank on the weekend
• Loafers and knit flats – more traditional or lug-soled loafers are comfortable and stylish, and knit flats are also breathable for summer!
Men's Styles
• Polo shirts – these continue to trend for the office, and can easily shift into evening and weekend social activities
• Golf pants, hike pants – new "performance pant" styles are versatile and breathable yet offer a polished look
• Blazers, too – think more casual blazers that you can wear to the office, but also will elevate your style for a date night or brunch.
• Chukkas and fashion sneakers – both a perfect blend of comfortable and chic footwear styles
Ready to try these new workwear styles? Request a "back-to-work Fix" from your Stitch Fix Stylist.
Find more complete survey results here, and read our Style Forecast Report for more 2022 style trend highlights. For high-res workwear imagery, please email media@stitchfix.com.
---
All insights shared in this blog post are from Stitch Fix data, including: sales and performance data for workwear styles, inventory planning data, client Fix Request Notes to their Stylist, and a return-to-office survey fielded to our U.S. clients in March 2022.
Survey methodology
Survey fielding date: March 24 – 29, 2022
Total responses: 1,304
About the respondents:
• U.S. based Men's and Women's Stitch Fix clients
• 83% of respondents work full time, 9% work part time
• Before the COVID-19 pandemic, 82% of clients worked predominantly on-site. Today, only 47% work predominantly on site. About 25% work in a hybrid environment, spending 2-3 days per week in the office and the remainder at home. Most clients (72%) believe this is how they will continue to work.