2021 was an exciting year for Stitch Fix as we introduced even more ways to help clients find what they love. As we close out the year, here are some of the highlights of the updates our teams made to our personalized shopping ecosystem, and a behind-the-scenes look at the data science and technology that's behind the items in client's closets. 
What Changed in The Personal Shopping Feed

Our clients are at the heart of everything we do. In 2021, we continued to innovate to make it easier for our clients to find the perfect items, every single time.
Stitch Fix Freestyle
In 2021, we launched Freestyle for all new clients, a major milestone in the evolution of Stitch Fix. Freestyle is our differentiated shopping experience where anyone can discover and instantly buy items that are thoughtfully curated based on individuals' personal style preferences, fit and size. For the first time ever, anyone is able to purchase items directly from Stitch Fix without ordering a Fix first. Launching Freestyle gave us more opportunities to enable everyone to shop personalized recommendations in their own personalized store with efficiency and convenience.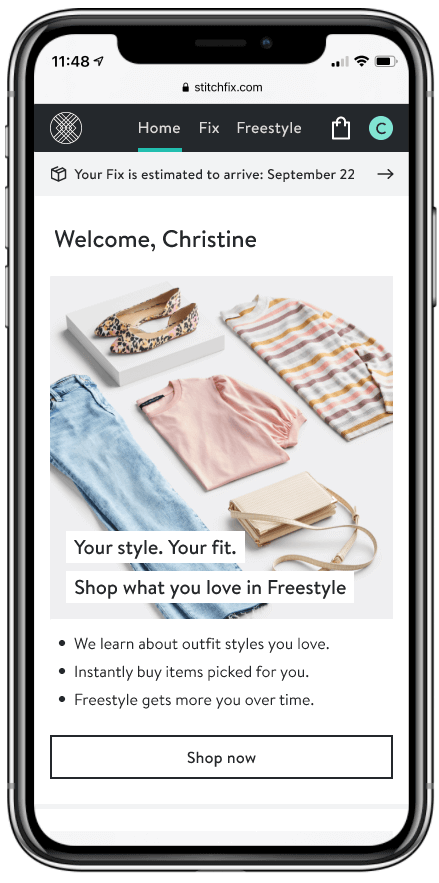 As part of Freestyle, we introduced Categories, a way to shop specific selections including Departments (tops, accessories, dresses, etc.) or "Fresh Finds," our trend & seasonally-led shops. We scaled from 40 categories at launch to 273 categories now!
Expert Picks is a new Category that contains collections that have been curated by a celebrity "expert" with a unique style point of view. We've already had picks from Sculpt Society founder Megan Roup, actor Jay Ellis, and pro football player Christian McCaffrey. 
Clients can also shop by brands, giving them lots of flexibility to find their perfect item (and we almost tripled the number of brands on the platform, adding even more variety for clients). 
Just as the items in Freestyle refresh throughout the day, so do the items we share with clients in the emails we send. Our Dynamic Freestyle Email Experiences allows us to populate email content in real time which means when clients open the email, the items are always available for them to click-through and shop. 
Stylist Generated Outfits allow stylists to create and build shoppable outfits for clients to browse in Freestyle. These outfits allow clients to have that same level of stylist insight and personal touch while shopping on Freestyle. 
We introduced "Ways to wear it" on specific product pages in Freestyle to show clients how they might wear an item they're considering in a fully styled outfit. The item, along with other shoppable pieces, inspires and empowers clients to pull together the perfect outfit from head to toe.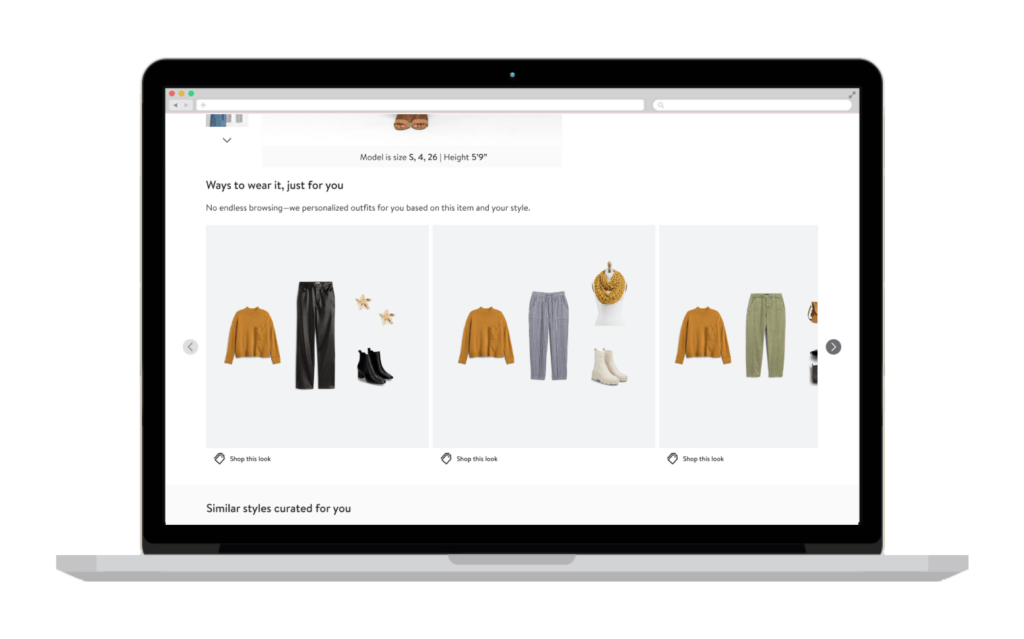 To give clients even more inspiration, we also added the ability to see "Similar items curated for you" and "Other items from this brand just for you" to specific product details pages in Freestyle.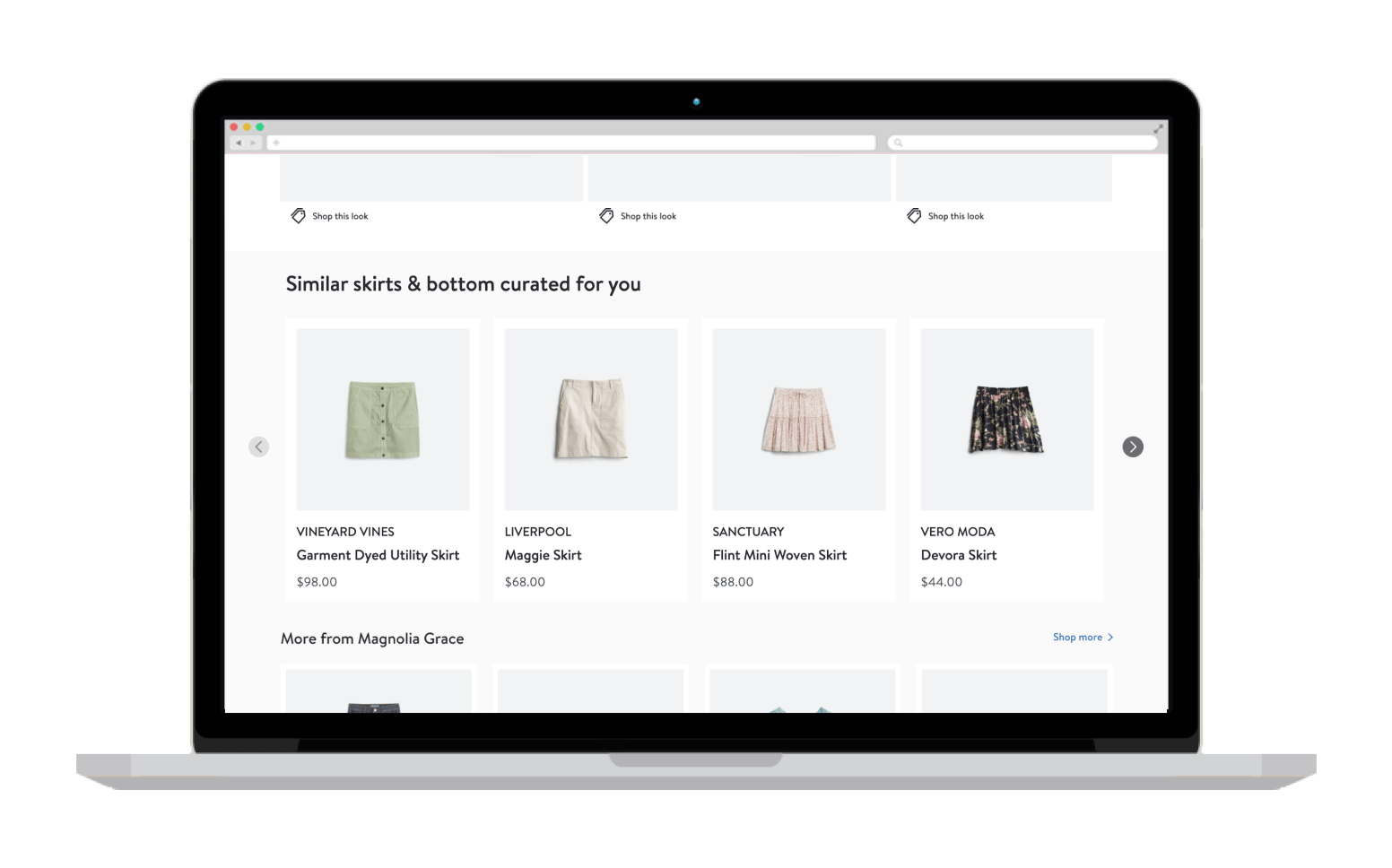 We also added a "Save for Later" bookmark feature so that clients can easily save items they're considering purchasing via item previews, item level view, and within Category listing pages. 
Fix Preview
Many of our clients told us they would like to have input into their Fix before it shipped. In May, we introduced Fix Preview to enable clients to do just that by sharing feedback and selecting items to include in their Fix before they ship. Since introducing Fix Preview, we've made a number of updates, including:
Introducing algorithm-generated previews to enable real-time Previews for new clients.
When giving feedback on why a client didn't select an item in Fix Preview, we wanted to both empower clients and offer real insight for stylists. With the launch of the Item Level Feedback, clients now select specific feedback (Dislike, Own Similar, Don't Need) which can be used by algorithms and stylists to create even better styling recommendations.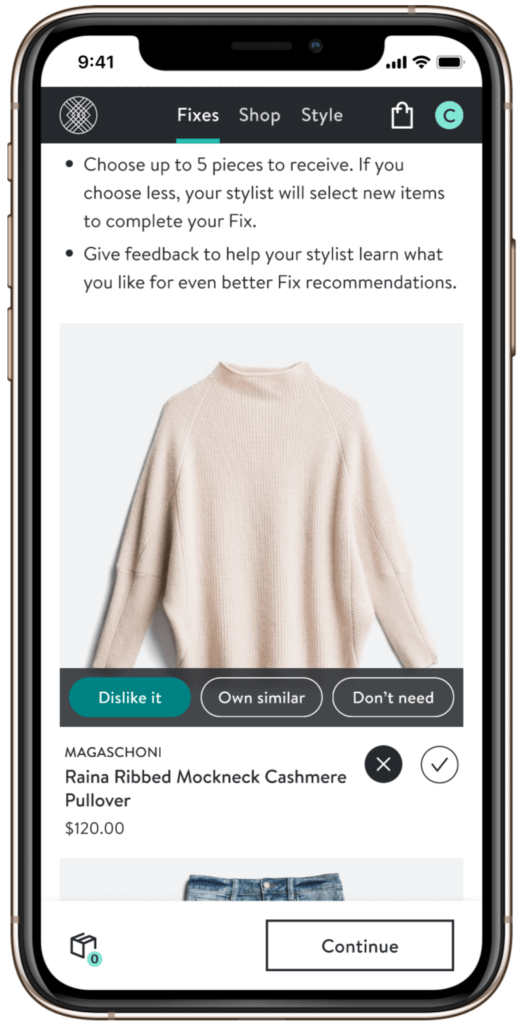 We are continuing to identify more ways for stylist-focused content to be accessible throughout the styling experience. We added the ability for stylists to view details (brand, category, color, etc.) on items not chosen from a Fix Preview. The info helps stylists see what about an item a client dislikes, allowing them to better understand clients and improve personalization for their Fix.
We also added a "Previewed" message so stylists now see a message for items previously shared with a client in Fix Preview that we're not chosen, avoiding repeats in Previews.
Inspiration and More Choice for Your Closet

Shoppable Community Inspiration showcases clients wearing their favorite Stitch Fix looks, while providing inspiration for others. Other clients can immediately make the look their own by shopping for personalized items, or save the image to their Fix Inspiration Board to share with Stylists.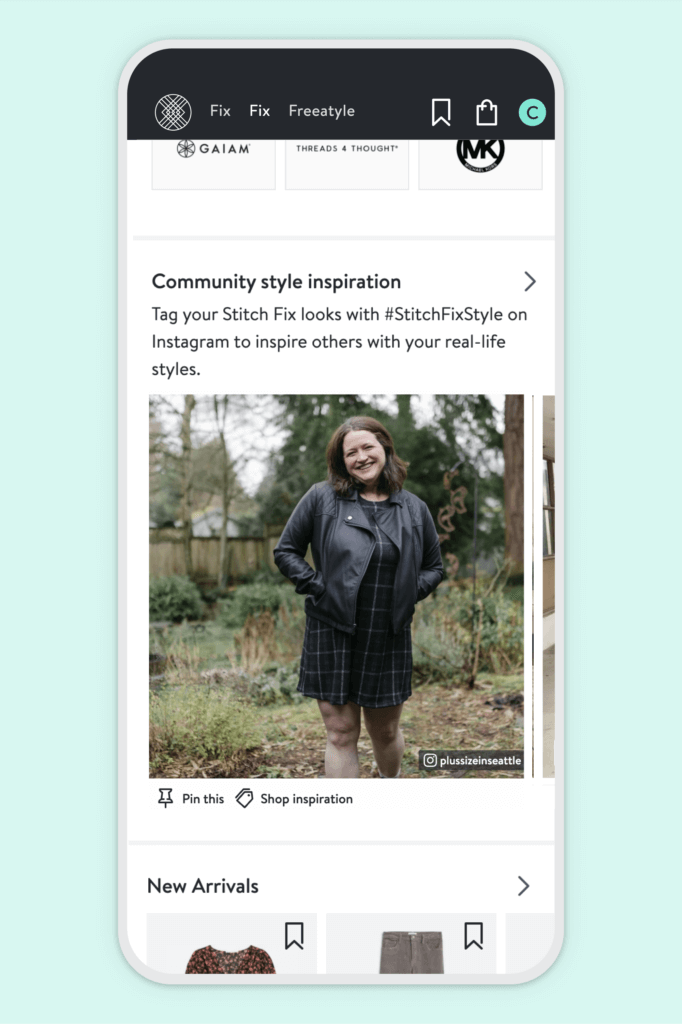 Clients have been able to purchase items they've loved in different sizes or colors through their Buy It Again tab. To expand on this feature, we added the ability for clients to shop similar items within their Buy It Again tab. If a client loves a top or sweater from their Fix or Freestyle, they can now shop similar styles, finding even more products they love.
We added new brands including Adidas, DKNY, Vans and Rag & Bone Footwear. We also launched Mohnton Made line, our new, exclusive to Stitch Fix brand that offers an assortment of size-inclusive modern basics for Mens and Womens. Utilizing recycled materials, natural dyes and more sustainable fabrics, the line is made with 100% more sustainable materials, and is committed to low production quantities for a smaller environmental footprint.
In 2020, Stitch Fix launched our Elevate Grant and Mentorship Program to empower designers of color. This year, we were able to actually offer the six Elevate grantees' apparel and accessory lines on Stitch Fix for clients to shop. This was an important step forward towards our goal to diversify our inventory and empower more designers of color. Elevate grantees were able to harness Stitch Fix's powerful data science tools to help them sell to our 4.2M clients. 
Data Driven Upgrades

Every aspect of Stitch Fix is enabled by our powerful algorithms and data. We sit at the intersection of technology and retail, and therefore are always pushing to be at the forefront of improvements and adding innovations to our tech. This year we launched a few behind the scenes features in our tech that make a direct impact on clients. 
Roughly 150K clients play Style Shuffle every day and we recently passed the milestone of 9 billion lifetime Style Shuffle ratings. In 2021, our tech team rewrote the Style Shuffle backend that computes which quizzes and questions to ask clients – this has allowed us to power even more personalization. The more data we have on what customers do or don't like, the better our recommendations are.
This year we made several improvements to accessibility and consistency in our platform, including increased contrast of link colors for improved readability, icons that will scale with text when Dynamic Type is enabled, and more. With this, we've made progress towards our goal of ensuring all customers can experience the Stitch Fix platform to the fullest – we've made progress, but there's even more work to be done. 
We leveraged our data platform to optimize our recommendation algorithms, reducing latency and providing faster recommendations to clients.
We continued to use our wealth of data to improve design and fit for all clients. In 2021, our team poured through feedback and data for sports jackets in order to reimagine the fit for two of our exclusive-to-Stitch Fix brands, Artefact and Fairlane. We launched a dedicated shop filled with these new, size-inclusive sports jackets and items to style them with.
Over the past year, we have worked with 30+ brands to harness our data to both launch Plus for the first time (The Label NY, Jen7 by 7 for All Mankind) and to refine their offering using our data and fit expertise (Girlfriend Collective, Beyond Yoga, The North Face).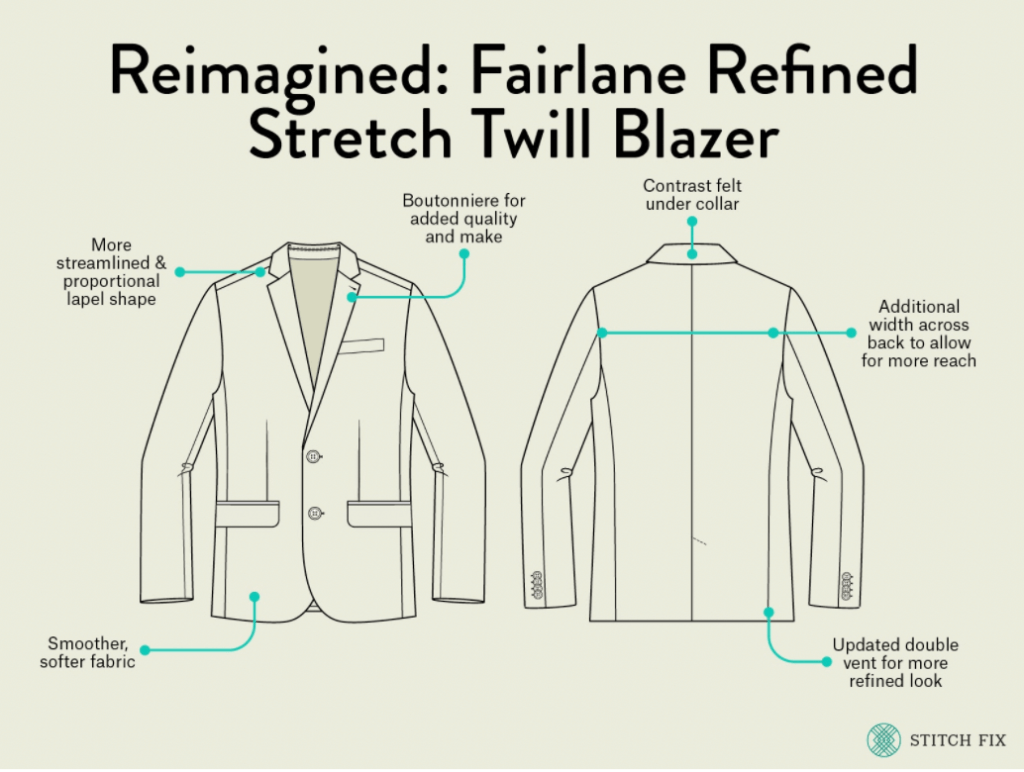 2021 was a year for innovation and transformation for our business here at Stitch Fix. We are committed to delivering a truly exceptional experience as we realize our vision of becoming the most personalized and differentiated shopping experience in the world. We will continue to transform the way our clients find what they love in 2022 and beyond.